Top oils have always been a firm favourite when it comes to caring for and protecting wooden worktops. With the introduction of 3 new stylish top oil shades from Osmo, there has never been a better way to transform and protect worktop surfaces.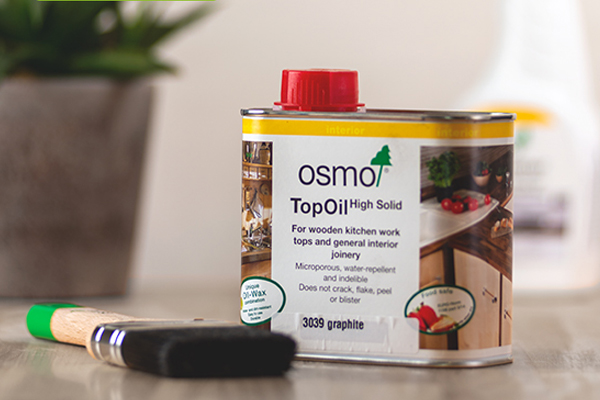 Why use a top oil?
Worktop oils takeover where nature left off by replenishing the natural oils lost from the wood. This benefits worktops and table tops by keeping them supple, dirt, liquid and heat resistant. Worktop oils are very easy to apply, maintain and repair and will never crack, flake, peel or blister.
Made from a blend of natural plant oils and waxes including sunflower oil, soya oil, thistle oil, carnauba wax and candelilla wax, Osmo top oils produce a tough, durable yet food safe finish making them ideal for a wide range of food preparation surfaces. Although primarily designed for wooden worktops, they're perfectly suitable for table-tops, domestic bar tops, wooden food bowls and furniture.
The new 'top oil' colour range
In addition to the existing Matt, Satin, Natural and White oil variations, the new line-up introduces Acacia, Graphite and Terra to the range. These stylish, modern colours will transform and protect, new and old wooden worktops in one easy process.
Worktop care
So your worktop has been oiled and is looking pretty classy, but how do you keep it looking like new? The good news is that oiled surfaces are by far the easiest to maintain and if need be, repaired. For day to day cleaning, Osmo Spray Cleaner is the perfect partner. This trigger spray cleaner is specifically formulated to effectively clean oiled and waxed surfaces whilst nourishing and maintaining the finish – Perfect.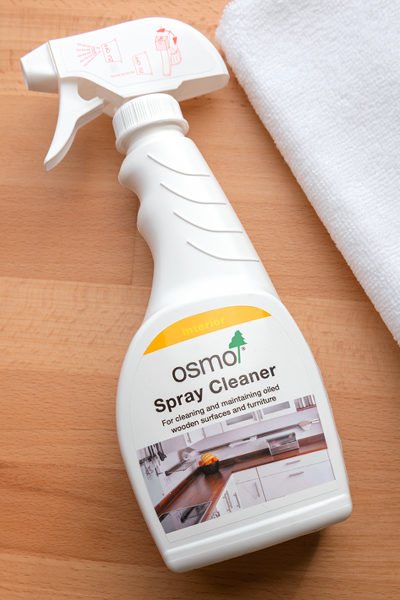 For worn or tired looking work top surfaces, simply clean then re-apply a thin coat of top oil to restore the finish. For stubborn stains, scratches and scuffs, gently sand the affected area with p120 grit abrasive or sandpaper. Remove all traces of sanding dust then re-oil the affected area to blend in with the surrounding wood.
Need help with your wooden worktops?
Our team of resident wood care experts are pretty clued up on all things worktop related. If you have a question about a wooden worktop or a worktop finish and would like free, expert advice, simply contact us here.
We love to see before, during and after photos of any worktop project. If you would like to share your project pictures with us and our followers, send us your photos or share on our Facebook, Twitter, Pinterest or Instagram pages.