The heat of the summer has well and truly faded and it's time to pack up the garden furniture in preparation for the garden hibernation. Everything that can be put away is stored in the shed or garage for protection. But what about the decking?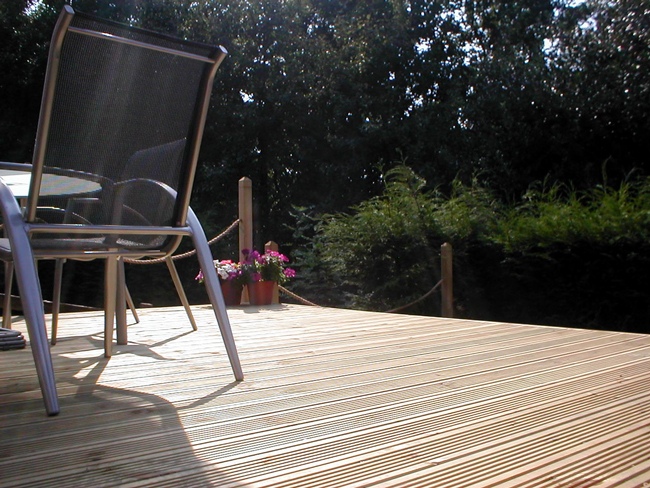 For most, the issue of decking maintenance and care is usually a spring or summer affair, but is this the only time that decking should be treated? In reality, Autumn is as important as Spring. The Autumn and Winter months bring the potential for prolonged periods of cold, wet and windy weather, and depending on where you live, snow and ice. All of which can be potentially damaging to decked areas.
How best to protect decking through winter
Preparing your decking for the Autumn and Winter is best done in early Autumn, whilst the weather is still warm, dry and light enough to do the work. There's no point in trying to treat your deck in high winds and lashing rain.
First things first – Decking Care 101
What happens next largely depends on the condition of the deck and any finish that it has, such as a decking oil, paint or coating type stain.
Firstly, sweep the deck with a stiff brush or broom to remove all traces of surface dirt and debris
If the decking has a finish, inspect it to make sure that it is intact and remains in good condition
Clean the surface with a decking cleaner such as Cuprinol Decking Cleaner to remove dirt, grease, algae and mould
Once clean, oiled decking can be re-oiled, preferably with the same decking oil originally used
If required, decking stains can usually be re-coated but this may depend on the stain system previously used. Always check with the decking stain manufacturer before over-coating an old stain
Damaged or worn decking finishes
For oiled decking finishes, localised damage and wear shouldn't be much of an issue. Decking oils are very forgiving and can be easily patch repaired and restored by simply cleaning and then re-oiling the affected area.
Coating type stains and paints are unfortunately a little more tricky. If the coating has started to crack, flake or peel, the only course of action is to strip the old finish back to bare wood. This is usually done with a jet / power washer or a dedicated decking stain stripper such as Cuprinol Stain Stripper.
Decking preparation prior to refinishing
Once stripped back to bare wood, any wood that has been exposed to moisture should be treated with a mould and mildew cleaner. This will not only clean any visible traces of mould and algae from the deck, but will also kill off any spores in the wood that would grow if left untreated. Cuprinol Decking Cleaner is ideal for this, as in addition to being a general purpose decking cleaner that removes dirt and grease, it also cleans and treats wood affected by mould and algae.
Once cleaned and dry, always use a clear wood preservative such as Cuprinol Wood Preserver Clear to protect decking boards from rot, decay and insect attack. This is more important for decking made from softwoods such as Fir, Pine and Spruce.
Refinishing bare wood or stripped decking
For bare wood decking or decking that has been stripped, cleaned and preserved, the final stage to get done before the winter weather sets in is refinishing. The product to use largely depends on the type of finish required. There are a range of considerations to take in to account such as ease and frequency of maintenance, if a clear or coloured finish is preferred, or if other properties such as anti-slip or UV resistance is needed.
One thing to bare in mind is that more and more decking oils and stains are now water-based, where as only a a few years ago most were solvent based. This isn't an issue if applying to bare wood but may be an issue if over-coating an existing finish. Always check with the decking finish manufacturer to confirm compatibility and any special preparation requirements before starting a project.
Recommended Cuprinol decking finishes
Cuprinol Anti-Slip Decking Stain: A water-based decking stain for all softwood and hardwood decking. Unique double action formulation which provides lasting weather protection with anti-slip properties to make garden decking safer. Available in a wide range of attractive colours
Cuprinol UV Guard Decking Oil: A water-based decking oil for softwood and hardwood decking. Deep penetrating formula replaces natural oils lost through weathering. UV-resistant, available in 'Natural' and in a range of colours
Cuprinol Total Deck: A clear, all-in-one, water-based decking oil and restorer for all softwood and hardwood decking. Restores grey and weathered decking in just one coat.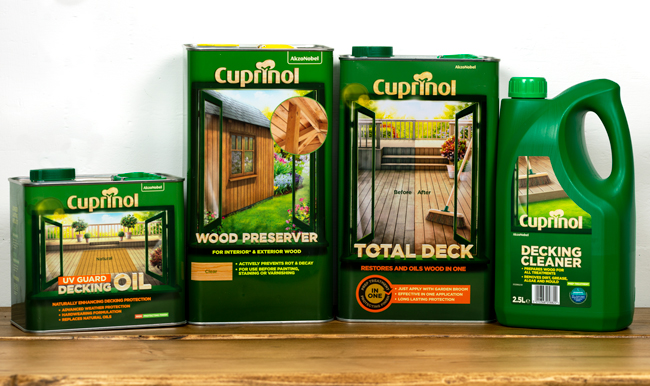 Need decking advice or help?
Need advice or help on how best to protect your decking over the winter months? With literally hundreds of decking preservers, oils and stains to choose from, our resident wood care experts are always on hand to help you out. Simply contact us for free, friendly advice on all things decking.
We love to see before, during and after photos of decking restoration projects. If you would like to share your pictures with us and our followers, send us your photos or share on our Facebook, Twitter, Pinterest or Instagram pages.