With the last of the stormy weather hopefully behind us and the hope of Spring just around the corner, it's time to start thinking about the garden and all those exterior wood care projects. From sheds to summerhouses, garden fences to cladding, they all need looking after to protect them from the elements and to keep them looking good, all-year-round.
To get the Spring season underway, we have a special offer on the ever popular and highly versatile Osmo UV Protection Oil Extra. For a limited time only whilst stocks last, you can get a 3Ltr promotional tin for the same price as the standard 2.5Ltr tin*, that's an extra 20% or half a litre free, enough to give up to an extra ten square meters of coverage.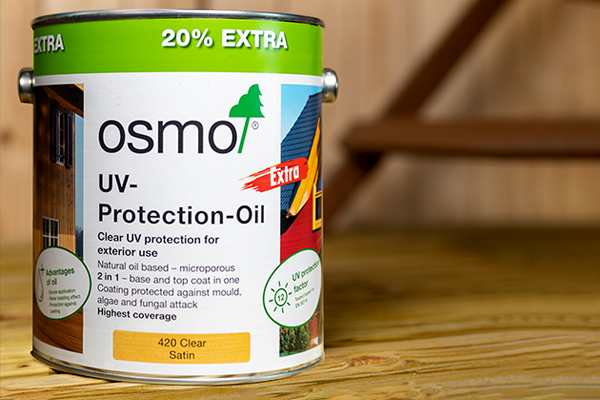 Why Use Osmo UV Protection Oil Extra?
This premium grade exterior wood oil is perfect for a huge range of exterior wood care projects. Made from a blend of natural oils, waxes, and resins, Osmo UV Protection Oil Extra offers excellent durability, water resistance and protection against mould, algae, fungal attack, and the bleaching effects of the Sun's UV rays. It is easy to apply, maintain, and patch repair, and is perfect for a range of exterior, smooth planed wood including sheds, summerhouses, log cabins, cladding, exterior doors, garden gates, driveway gates, and more.
In addition to the Osmo UV Protection Oil Extra range, we also stock Osmo UV Protection Oil (410). What's the difference we hear you ask. Osmo UV Protection Oil (410) is simply a biocide free version of Osmo UV Protection Oil Extra (420) clear. Being biocide free, it's perfect for interior and exterior wood that is exposed to direct sunlight and is more likely to come into direct contact with people, for example garden furniture, benches, interior doors and furniture.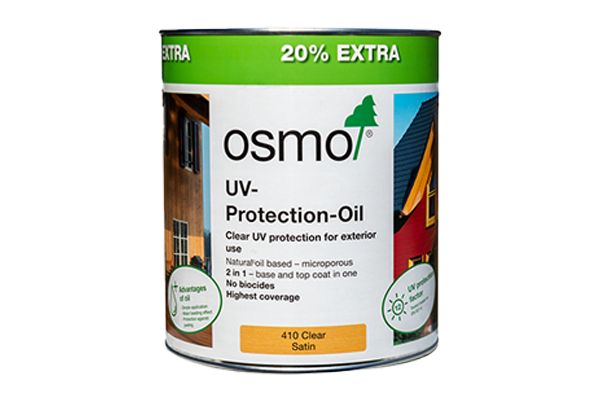 Clear and colour oils to enhance exterior wood
Osmo UV Protection Oil Clear beautifies exterior wood by enhancing its natural character and colour. Colour tinted versions protect and restore the appearance of exterior wood that has turned grey or silver because of weathering. Once applied, Osmo UV Protection Oil dries to a pleasant, soft sheen satin finish.
Don't take our word for it
Although we can go on and on about how good and versatile this product is, don't take our word for it. Our customer reviews speak volumes about this product. The Osmo UV Protection Oil customer review below is just one of thousands to date.
You can read more Osmo UV Protection Oil Extra reviews here.
Other Osmo products for your garden projects
Give exterior wood the best possible protection by treating it with Osmo WR Base Coat (4001) prior to applying Osmo UV Protection Oil Extra.
Restore grey and weathered timber with Osmo Wood Reviver Gel (6609).
Refresh, restore, colour, and protect wooden decking with the range of clear and colour tinted Osmo Decking Oils. For a slip resistant decking finish, consider Osmo Anti-Slip Decking Oil (430).
Need help with your wood finishing projects?
Want to know more about Osmo UV Protection Oil or any of the other wood finishing products we offer? Contact our friendly team of resident experts. They're always on hand to provide free advice and guidance on the right products for your project.
Please note: Osmo UV Protection oil is recommended for smooth planed wood. Using it on rough sawn timber could use considerably more oil. Rough sawn timbers are more porous than smooth planed wood so will absorb more oil. The colour of the tinted versions will likely be darker and stronger on rough sawn timbers as they will absorb more of the stain.
Osmo UV Protection Oil is not recommended for horizontal surfaces such as decking and window sills that do not have an angle to allow water run-off.
We love to see before, during and after photos of any project. If you would like to share your project pictures with us and our followers, you can either email us your photos or share on our Facebook, Twitter, Pinterest, or Instagram pages.
*3Ltr promotional tin available on selected colours only. Please see our Osmo UV Protection Oil Extra product page for available colour variations. Strictly whilst stocks last. Once it's gone, it's gone!