This offer has now finished, however we will update this page as soon as we hear of any future deals or promotions.
We Brits love a bargain, something for nothing, more for less, deal of the day, 20% Free. Forget Brexit and impending interest rate rises, today sees the return of the Osmo Polyx Oil offer. That's 3 litres of Osmo Polyx Oil matt (3062) for the price of 2.5 Litres – Bargain!
For those looking to do some interior DIY or wood restoration over the Autumn and Winter months, that's enough hardwax oil for around 12 interior doors, 2 rooms of wooden furniture or over 36 square meters of wooden floor.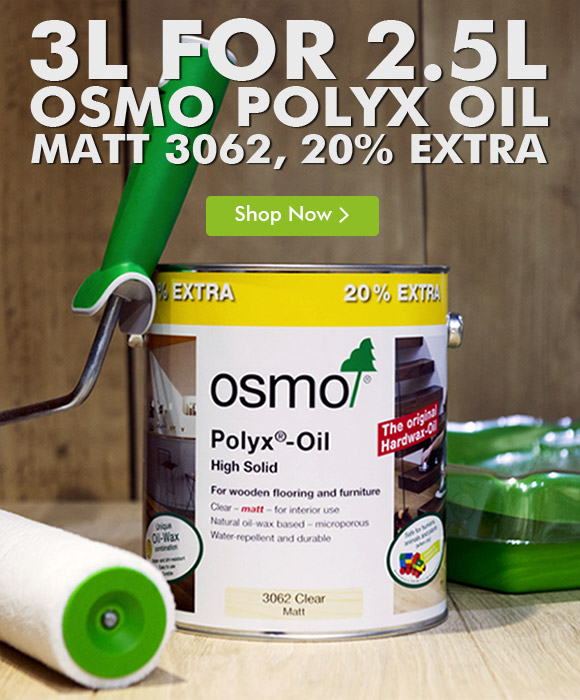 Made from a blend of natural oils, waxes and resins, Osmo Polyx Oil Clear Matt 3062 offers excellent durability, liquid resistance and protection against knocks, scratches, scuffs and stains. It is easily cleaned, maintained and patch repaired, and is perfect for most interior wooden surfaces including wooden floors, doors, skirting boards, table tops, kitchen worktop surfaces and more. In addition to protecting interior wood, it beautifies it by enhancing the natural character and colour of the wood whilst retaining a natural matt finish.
Although we can go on and on about how good and versatile this product is, don't take our word for it. Here are just some of our most recent Polyx Hardwax Oil customer reviews from the thousands to date.
"Osmo polyx oil is an absolutely amazing product goes on really easy, rubs in with a cloth, leave to dry then give it a quick de-nib then a second coat. I used a sanding sealer before oiling and got a flawless finish that is really hard wearing and waterproof too, FANTASTIC PRODUCT. Also a little goes a very long way as you have to apply it thinly, will definitely buy this again, it's the best finish I have ever had on a table I made! Five stars."

"I don't usually write reviews but this time round I'll do it because we've been very impressed by the quality of this product. It's very easy to apply if you follow the instructions provided and the quality of finish has been outstanding. We've applied it in several rooms around the house. Also, the purchase and delivery experience has been excellent. So overall I'd strongly recommend this product."

"This is the fourth time I have purchased this product. It produces a wonderful finish. Really brings out the beauty of the wood grain – used on several oak tables and on doors. Takes a while to dry, and preparation (sanding carefully, removing all old varnish or polish) is important."

"I intend to buy some more for other rooms. I used it first in our hallway where we have block wood flooring and I didn't start it until lunch time so it took quite a long time to dry. Next time I will start it first thing in the morning or last thing at night to give it time to dry. However the floor has come up fantastic and has brought all the different colours out in the wood."

"Wow, this oil really bought out the grain in the wood. First coat I applied with a brush. I used the finishing pad to gently sand down. I then applied a second coat with a clean, lint free, cloth. The finish is just amazing. Used about 200ml of the oil on a set of 3 bi-fold American White Oak glazed doors, the frame, and a 2m by 30cm by 2cm piece of American White Oak to go on the floor. Will definitely use OSMO Wood oil products again."
So whether looking to do a little pre-Christmas renovation before friends and family arrive, or perhaps already thinking about those post New Year projects, now is the time to buy Osmo Polyx Oil 3062 promotional 3Ltr tins whilst stocks last. Once they're gone they're gone! Simply select the 2.5Ltr Matt 3062 Clear option and it will be automatically upgraded to the promotional 3Ltr size tin at checkout.
Read more about the Osmo 25th anniversary promo from 2015 here.
Need help with your wood finishing projects?
Want to know more about Osmo Polyx Oil or any of the other wood finishing products we offer? Contact our friendly team of resident experts. They're always on hand to provide free advice and guidance on the right products for your project.