This offer has now expired – Find the Spring 2020 Osmo 420 Promotional 3Ltr tin offer here.
Spring is officially here and although traditionally a time for April Fools jokes and April showers, we have an offer that will banish those grey clouds and get you in the mood for another glorious summer. After the huge success of our 3 litres for the price of 2.5L promotion last year, we thought we would spread some cheer and do the same this year.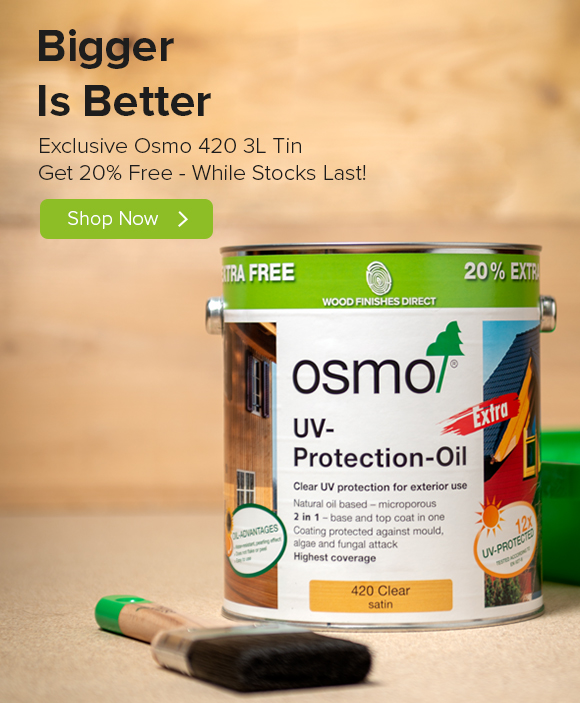 As with last years offer, in addition to the groovy personalised 'Wood Finishes Direct' tin, there's an extra half a litre or 20% of Osmo UV Protection Oil Extra (420) Clear – giving up to an additional 10 square meters of coverage for free*.
Made from a blend of natural oils, waxes and resins, Osmo UV Protection Oil 420 Clear offers excellent durability, water resistance and protection against mould, algae, fungal attack and the bleaching effects of the Sun's UV rays. It is easy to apply, maintain and patch repair, and is perfect for a range of smooth planed, exterior wood surfaces including sheds, summerhouses, log cabins, cladding, window sills, exterior doors, garden and driveway gates and more. In addition to protecting exterior wood, it also beautifies it by enhancing the natural character and colour of the wood whilst drying to a pleasant, soft sheen satin finish.
Although we can go on and on about how great and versatile this product is, don't take our word for it. Here are some of our recent Osmo UV Protection Oil customer reviews from the thousands to date.
Osmo UV Protection Oil Customer Reviews
So whether looking to nourish, protect and spruce up exterior wood before the summer sun heats up, or starting a new construction project that includes wood that will be exposed to the elements, now is the time to grab your promotional tin of Osmo UV Protection Oil (420) Clear whilst stocks last. Once they're gone they're gone! Simply select the 2.5Ltr Clear (420) option and it will be automatically upgraded to the promotional 3Ltr size tin at checkout.
Need help with your wood finishing projects?
Want to know more about Osmo UV Protection Oil or any of the other wood finishing products we offer? Contact our friendly team of resident experts. They're always on hand to provide free advice and guidance on the right products for your project.
Here at Wood Finishes Direct we always love to see before, during and after photos of any wood finishing project. If you would like to share your project photos with us and our followers, you can share on our Facebook, Twitter, Pinterest or Instagram pages.
Want to know more about Osmo? Read about their 25th anniversary promo from 2015 here. See the full range of Osmo interior and exterior products here.
*Offer applies to (420) clear only and does not include any other colour variations within the Osmo UV Protection Oil Extra range.