In this video Jay from Wood Finishes Direct will explain the benefits and how to refill the  Manns Premier Anti-Bac Cleaner.  
Premier Anti-Bac FAQ
What does Manns Premier Anti-Bac Cleaner protect me from?
Manns Premier Anti-Bac Cleaner offers protection against bacteria, fungus, algae and viruses, (Hepatitis-B viruses). Ideal for use in medical areas, schools, food preparation and animal feed areas and more
Will it work through deep stains?
For deeper stains just leave the spray to work its magic for 2 minutes before wiping it up and repeat as necessary. Then leave to dry then kick back and relax knowing your house is clean and fresh. It's that easy.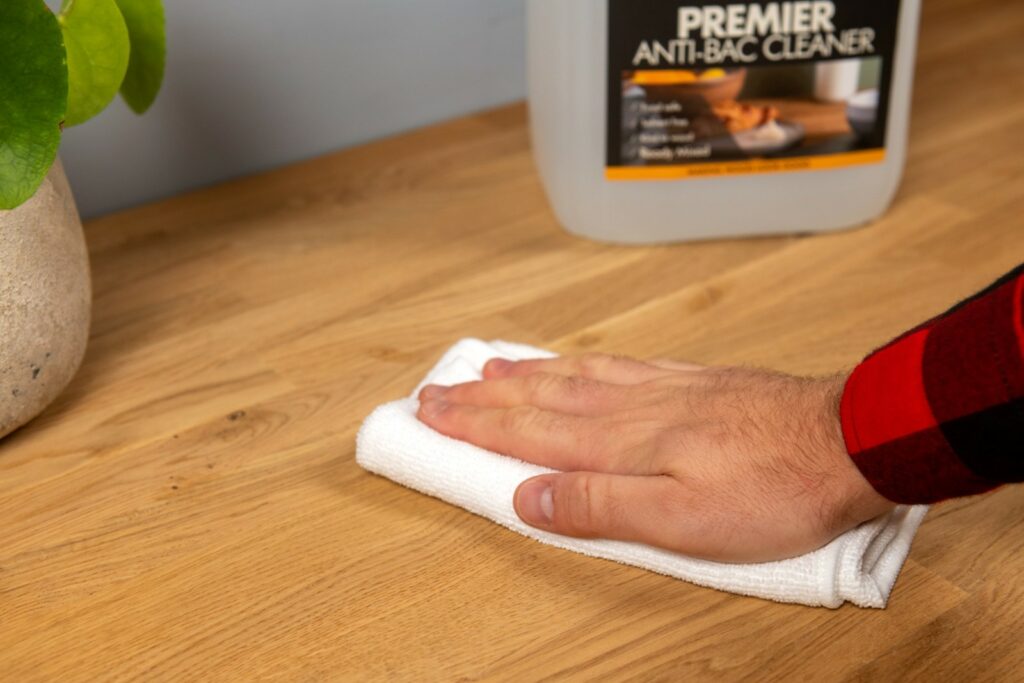 How to Maintain – Manns Premier Anti-Bac Cleaner.
Hi I'm Jay from Wood Finishes Direct in this video I'm going to tell you why you should consider refilling the Manns Anti-bac Cleaner Spray and the safest way to do so.
We all do our little bits for the environment it can be in the shape of recycling, only getting wood from sustainable sources and most of all. Cleaning, maintaining and repairing our floors, decking, furniture and other wood around the home to help prevent excessive deforestation. And with the Manns Anti-bac Cleaner Spray, you can do your bit to help prevent further plastic waste too!
Refilling couldn't be easier, just make sure you put on an apron or other garment to protect your clothes. Even though it's not harmful to your skin I like to always wear gloves, as it's a good habit to get into. Start by removing the spray nozzle, then insert a funnel into the neck and carefully decent the 5L into the bottle. When full pop the spray nozzle on and away you go!
If you need any further technical advice or information about your project, why don't you give us a call or email and put us to the test, we are the experts after all. A full list of all the products featured in today's video will be in the description on YouTube don't forget to like and subscribe for all future content and as always do a test area.
Other Post You Will Love!
What way is the right way up for decking boards