In this video Jay from Wood Finishes Direct will explain how to apply the Osmo Concrete Oil.
Hard Wax Oil FAQ
Are interior Concrete oils safe for use on or near food preparation surfaces?
In general, most interior oils are safe for use on concrete surfaces that are close or come in to direct contact with food. Danish Oils are a good example of an oil that can be used on kitchen worktops, chopping boards and wooden food or fruit bowls. Worktop Oils are a range of oils that are specifically formulated to be used on food preparation surfaces. These products offer increased durability whilst enhancing the natural beauty and character of the concrete.
I've over applied the Concrete oil and it's gone sticky, is there anything i can do?
Yes, over-application of concrete oil can be easily remedied by dampening a clean, lint free cloth in white spirit and wiping off the excess oil. Take care not to use too much white spirit this will break down and remove the surplus oil from the surface of the concrete.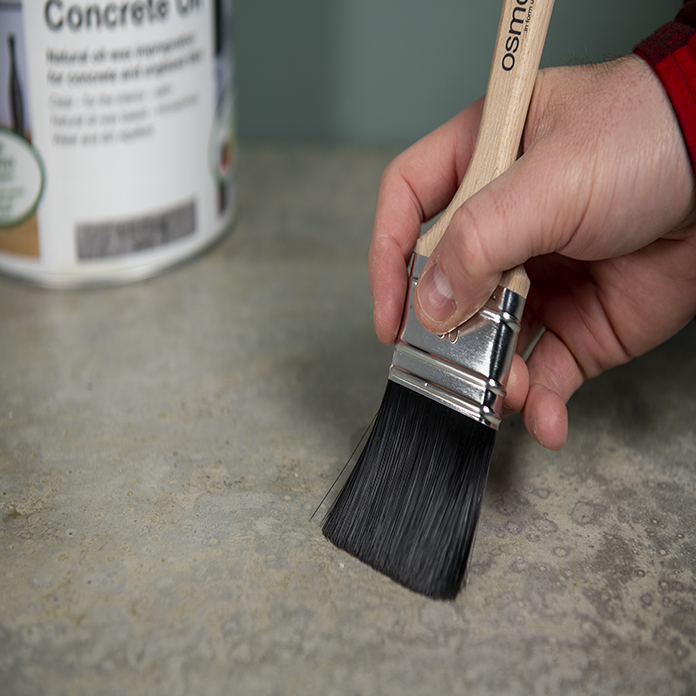 How to Apply – Osmo Concrete Oil transcript.
Hi, I'm Jay from Wood Finishes Direct. In this video I'll be demonstrating the very best way to apply Osmo Concrete Oil. In the dark about what the Osmo Concrete Oil 610 does? We have you covered! Check out our preparation video now.
Applicator
Applying the Osmo Concrete Oil is very easy but your choice of applicator will vary due to the size of your project. Thankfully, the Osmo Soft Tip Brush, my chosen applicator for this product comes in various sizes. It has a fantastic blend of synthetic and natural bristles for even distribution of oils, offering a great level of control making it ideal for small to medium projects like what we are working on today. For larger areas such as floors, I'd go for the Osmo floor Brush, it's great for limiting over application issues.
Application
So the prep is done, the applicator is selected and you're happy with your test area. We are ready to jump right in. Start by giving the tin a good stir before and periodically during application to prevent inconsistencies in the finish. Load the brush with oil, dab off any excess and apply thinly in long even strokes in manageable areas to prevent inconsistencies. Once applied, remove any excess from the surface with a lint free microfiber cloth before allowing it to dry.
After 8-10 hours give it a light rub down with a finishing pad, then youre ready to apply the second, final coat in the same way as the first. This method should be repeated over the two coats required and you're done!
The results we got on this industrial style coffee table and decorative flower pot are great. We're really happy with them.
Outro
If you're seeking technical assistance or advice on your project, why not put us to the test and give us a call or email? We're the experts after all. All the products mentioned in the video are linked in the description on Youtube. Like what you've seen? Don't forget to like and subscribe for all future content.
Other Post You Will Love!
Should You Use an Oil or Varnish to Finish Your Floor?