Worktop Oil Video
One of the more common questions we get asked at Wood Finishes Direct is what Worktop Oil to use on Hardwood or Solid Wood Kitchen Worktops. As a result of this, we decided to test out a new product to the wood finishing industry the Holzol Worktop Oil and see how it compared to an industry favourite the Manns Premier Top Oil.
Click here to view the Video on YouTube and Dont Forget to Subscribe to our YouTube Channel too!
Worktop oil help and advice
Need some help with your wooden kitchen worktop surfaces? See our worktop FAQ page that answers many of the most common questions and issues. Need specialist help and advice? Contact our resident experts who are on hand to provide free advice on how to clean, maintain and restore all manner of wooden worktops and worktop finishes.
Video Transcript
Hi I'm Ben O'Reilly From Wood Finishes Direct, and welcome to the product test and how to video guide. This video is the first in a two part series in which I'm going to be comparing these two Worktop Oils. The first Worktop Oil comes from relatively new kids on the block Holzol, it comes in a one litre tin, and for more information just click the box at the bottom of the screen and it will take you to a page where you can read more about it. The second oil I will be comparing is the Manns Top Oil, this one comes in a 500ml tin and again for any further reading click the box at the bottom of the screen.
I am going to be testing them across 4 different categories, ranging from Ease of Application, Dry time, Aesthetic and Stain Resistance. Needless to say I'll have to do Ease of Application first. I am going to be applying them to this piece of Beech block worktop, I have used this Beech block worktop in two different video's previously, one on Mann's Top Oil, and one on Osmo Wood Wax Finish Extra Thin 1101. Prior to application I sanded it through the grits, just to remove any contaminates or any previous finish. It is always a good idea to do that prior to applying any finish.
I'll be applying both oils using a Mako Natural Bristle Wood-care Brush, then ragging off any excess with a Woodleys Microfiber Cloth. Prior to application it's always best to thoroughly stir an oil, I have already done that and I have decanted them into some paint trays. Now lets see how they perform through application.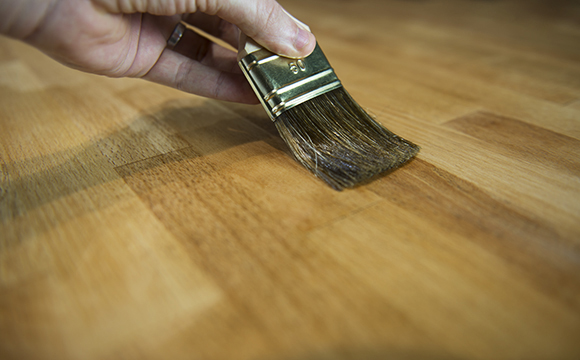 Application
So! The time difference for application between the Holzol Worktop Oil and the Manns Top Oil was just a few seconds in favour for Holzol. Both are applied in a fairly similar fashion, just brush on a nice thin coat then wipe off any excess using a Manns Microfiber Cloth. I was really struggling to come up with reasons to give it to either Holzol or Manns. There was one thing that I did notice, the Holzol smells amazing, it has a really pleasant aroma. But that however is not enough to swing it in its way, so I'm going to how to give Ease of Application to Both of them, it has to be a draw.
The next category is dry time, for the Manns Top Oil it's 4 hours and for the Holzol Worktop Oil its re-coat time is 6-8 hours. However, for it to be fully dried and cured and ready for use it does take 12 to 24 hours, as a result of this I'm gonna have to give dry time to the Manns Top Oil, just for overall job length being shorter. What I'm going to do now is give these two another coat of their respective oils and then I'm going to in the next video do the aesthetic and stain resistance test. Don't forget to subscribe to our YouTube channel, and tune in next time to see how they fair.
If you have any questions or just like some further advice please phone the phone number or email the email address on screen now, if you liked this video and want to see some more unique content simply Subscribe to our YouTube channel, like and comment on any of the video's you like, and of course, Always do a test area.
Other Content You Will Love!
Blog: Which is the Best Oil For Wooden Worktops?
Blog: Knackered Kitchen Worktops and Cupboards? Here's How to Maintain Them
Blog: The Big Brush Issue – Synthetic Vs Natural Paint Brushes – What Brush To Use.
Blog: Secrets Of The Experts – Denibbing Explained – How to Finish Like a Pro.
Video: Hardwood Oil – Osmo Wood Wax Extra Thin 1101 Product Test
Video: Treating Kitchen Worktops and Table Tops – Mann's Top Oil Product Test
Disclaimer
Always try a test area before beginning any project!
Always use suitable protective equipment, and take due care while applying any of the products featured in these video's.
All prices are accurate at time of the video going live.