Homes that feature real wood finishes such as soft and hardwood flooring, kitchen worktops and furniture are gaining appeal. With more of us choosing natural materials in our homes over modern materials, wood care products have seen a revival. Designed to protect and enhance the natural beauty and texture of wood, there's a growing demand for wood care products that are derived from natural ingredients.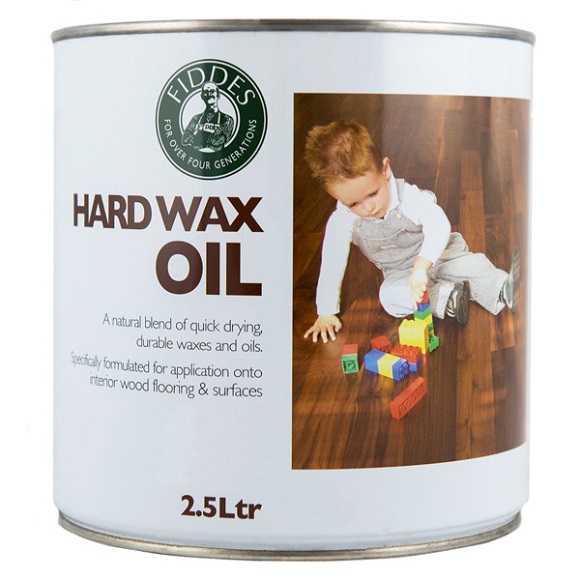 After being used to sterile looking, wipe clean laminate surfaces, people often have questions and concerns about returning to real wood floors and kitchen worktop surfaces. This is completely understandable, especially when children could be crawling over floors or in the case of kitchen work tops, eating food that has been prepared on them.
In reality, getting the look you want in the kitchen and on wooden floors, that is hard wearing, easy to maintain and above all safe is probably quicker and easier than you may think. Ticking all the right boxes, Hard Wax Oil is tough and hard wearing and completely food and child safe when dry, perfect for busy household flooring and food preparation surfaces.
One of the most versatile and easy to use products for these types of projects, Fiddes Hard Wax Oil comes in a variety of sheen levels including matt, satin and semi gloss finises. Easily applied with a lint free cloth, paint brush, floor applicator or sponge, Hard Wax Oils penetrate into the surface of wood. Here, the unique blend of waxes and oils oxidise with the air in the surface of the wood to form a highly durable and protective barrier that is water and dirt resistant. Once applied and fully dried, Hard Wax oils can be gently buffed to further increase the sheen level if required.
Hard Wax Oil Uses
Perfect for most types of wood, Hard Wax Oil can be used on a wide variety of wooden surfaces including wooden floors, doors, children's toys, wooden furniture, food preparation surfaces such as chopping boards, wooden cooking utensils and more. For upkeep and maintenance, simply clean the area before applying a thin coat of fresh oil. Areas that have become worn or damaged such as high traffic areas on flooring can be easily restored with a light sanding and a re-application of the hard wax oil.
So if your dream is of a farm house kitchen with real wooden floors and worktops, but were afraid of the care and upkeep – don't be. Caring for and maintaining real wooden surfaces with a Hard Wax Oil is probably a lot quicker and easier than you think.
There are now a wide range of Hardwax Oils on the market from established and newer brands, in both clear and coloured formulations that stain and protect the wood in one. To ensure that you get the right hard wax oil for your project, we recommend getting several hard wax oil samples and testing them on the wood to be treated. Just like testing paint on walls, this will confirm what the product will look like ones completed on the wood to be treated.