It's around this time of year that gardens across the land burst into life. With blossoming fruit trees, flowers, lush green grass, and with a little luck and favourable weather conditions, a splash of colour from strawberries and other garden fruits.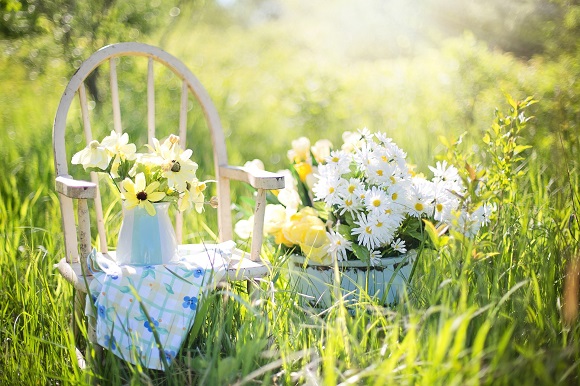 Unless you're a big fan of flowers, and have a carefully planned growing cycle of colourful blooms that last throughout the year, chances are that like many, your back garden probably comprises mostly of greens and browns from plants, grass, the garden shed, fence panels and decking. To enhance things further and to make your garden spaces a place of relaxation and pleasure, a simple garden design plan with some added colour can make a big difference.
Left untreated, exterior wood will slowly turn grey or silver as the tanning in the timber surface is broken down by the Sun's UV rays and weathering. For some, greying fence panels and sheds provide the beautiful aged look of a mature garden that has history. Others on the other hand want to retain some colour in the timber of sheds and fences. This is usually done with a brown or wood coloured treatment or stain.
Although browns and greens are undoubtedly among the predominant colours within nature, nature is also great at throwing in a splash of vibrant colour to liven things up. For example, woodland colours can include the striking shades of blue and purple from Bluebells, warm yellows from Primroses and a peppering of White from the flowers of Snowdrops and Wild Garlic.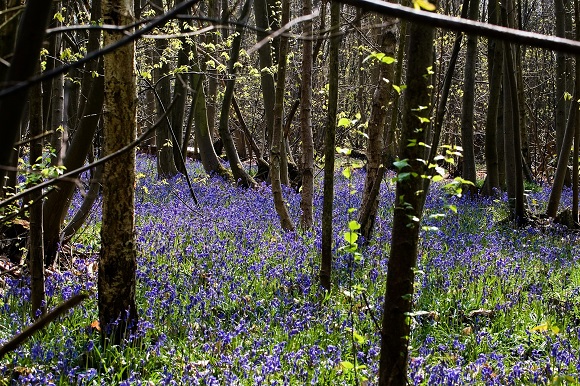 The trend of adding colour to our gardens has gained momentum in recent years and is now covered extensively in lifestyle and gardening magazines. The use of coloured paints and wood stains in garden design is also taking centre stage at many of the big national gardening shows and events.
Adding colour to your garden design ideas doesn't mean turning it into a psychedelic rainbow of colour, that would scare away every living creature for miles around. It could be just enough to catch the eye in the form of a painted watering can or something more grand, such as a garden shed painted in a corn flower blue with powder pink window frames and trim. Black fence panels, as strange as it sounds, provide an excellent contrast to lush green plants and lawns.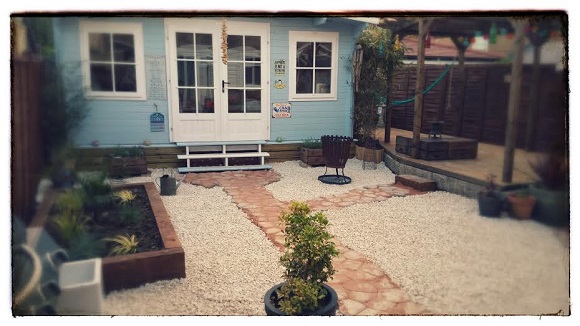 In recent years, the market has become awash with garden paints and stains to satisfy the growing demands of the DIY enthusiast. But, in our opinion, it's usually best to stay with the reputable brands that have historically specialised in wood care products such as Ronseal, Cuprinol and Barrettine. In addition to adding colour, it's worth remembering that garden paints and stains are also designed to protect and preserve timber structures and fixtures from the elements.
Choosing which products to use in your garden design is largely down to the desired colour and the type of surface to be coloured. Cuprinol Garden Shades comes in a wide range of attractive colours, offers up to 6 years weather protection and is perfect for all types of garden wood, including sheds and fences. It can also be used on trellis, cladding, and about any other wooden surface. Although Cuprinol Shades paint can be used on decking balustrades and handrails, it's not recommended for decking boards as it's not durable enough to withstand a high degree of foot traffic.
Specifically formulated for garden sheds and fence panels, Cuprinol 5 Year Ducksback is an advanced non drip wood stain that is water repellent and offers protection against frost and weathering for up to 5 years. And if you're looking for a colourless wood preserver, to protect your wood before painting or staining, we recommend using a wax-free wood preservative such as Barrettine Premier Universal Preserver. This product works particularly well as an undercoat with Cuprinol 5 Year Ducksback.
For wood and non wood surfaces, Ronseal Garden Paint could be the answer. Ideal for almost any surface including wood, terracotta, metal and brick, this garden paint comes in a wide range of bright vibrant colours including Purple Berry, Summer Sky and Lime Zest. Perfect for wood and metal garden furniture, Terracotta plant pots, brick garden walls and more.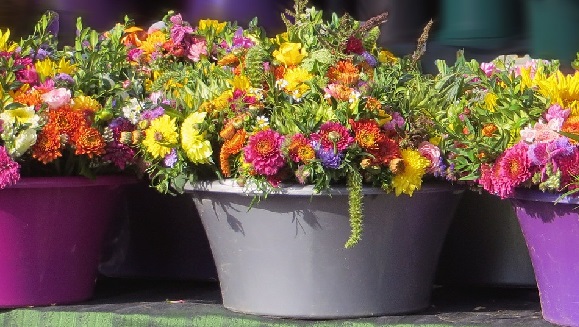 Need Some Garden Design Inspiration?
Still not sure? For inspiration take a look at the following resources for some great garden colour ideas.
We stock a huge range of garden paints including water-based and solvent-based formulations. Here are some of our most popular garden paint products.
Stuck on Garden Paint? We're Here to Help
Here at Wood Finishes Direct we stock a wide range of products that colour and protect garden wood from the heat of the summer sun and the harshness of winter. If you're unsure of what product you need for your garden design project, contact our team of wood wizards who are on hand to help.
At wood Finishes Direct we love to see how peoples projects have turned out. If you've added colour to your garden, no matter how big or small, and would like to share your photos with us and our community of followers, simply send us an email with your photos.