In this video Jay from Wood Finishes Direct will explain what to consider before buying  Osmo Door Oil.  
Door Oil FAQ
Can I use a wood oil on my interior veneered doors?
Products such as  Osmo Door Oil (3060) have been specially designed for use on veneered internal doors. It gives interior doors a tough, durable, clear, satin finish. Always check the door manufacturer's guidance before treating veneered doors as in some cases, it may invalidate the warranty of the door. 
Looking for advice on how to treat Oak veneer doors?
Interior Oak veneer doors can be treated with either a wax, oil or varnish. Using a clear  door oil will enhance the natural grain and character of the wood, they will also slightly darken the wood to give it an almost damp-like appearance. Using a clear wax such as  Fiddes Supreme Wax Polish will keep Oak veneered doors looking natural but offer less protection than oils and varnishes against scratches and scuffs. 
For durability, varnishes offer the best protection. For ease of maintenance and repair from minor scratches, scuffs and scrapes, we recommend using a door oil or wax. Always check with the door manufacturer's guidance before applying a finish to a door.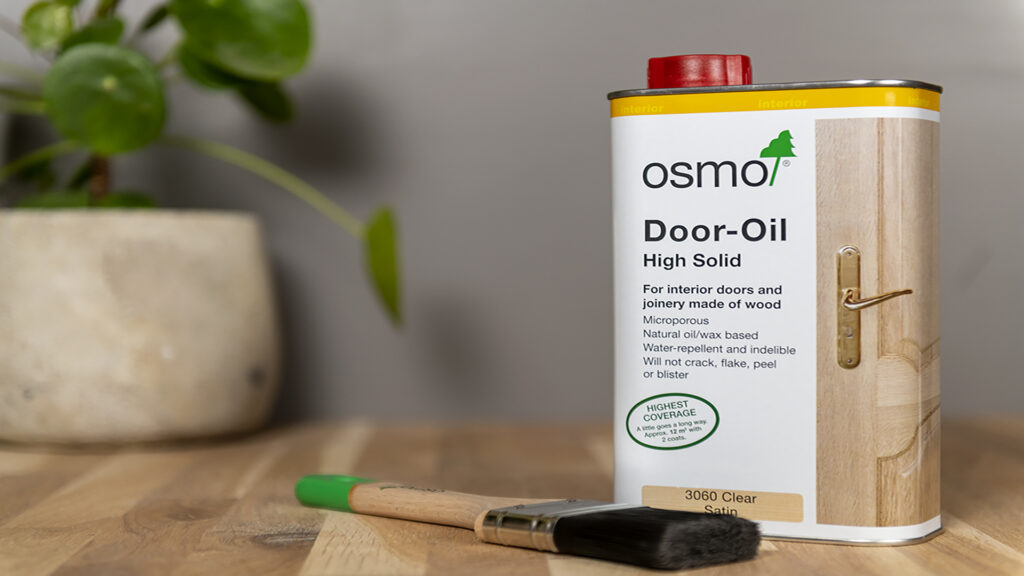 Before you Buy – Osmo Door Oil transcript.
Hey I'm Jay from Wood Finishes Direct. In this video we will be highlighting what you may wish to consider before jumping into finishing your doors with Osmo Door Oil. A little tip for you, it is so much easier to finish a unhung door with all handles and other furniture removed and any size adjustments made, Trust me, you'll thank me later!. So, Grab your door and follow me.

Firstly, what is Osmo Door Oil? A highly durable, professional grade, protective finish made from natural oils for all softwood and hardwood internal doors. Suitable for solid wood, engineered and veneered doors.

Not all doors are made the same, the doors you typically will be looking at finishing will either be engineered or solid wood. What's the difference? Well, Solid wood doors are exactly that, made from a solid piece of wood. Next engineered or veneered doors are made around a core of an engineered non-natural material, typically MDF with a real wood thin layer over the top.
We'll start with a very handy little test called the water test. The logic behind this test is simple, it helps us establish whether the door is bare or previously treated. All you need to do is apply a drop of water onto the door and leave it for 30 seconds. If the water beads, then the wood contains an existing finish. If the water soaks completely you can move straight onto application! It's genuinely that easy.

For engineered doors like the one in front of me, they typically come unfinished and ready to go. So normally I'd recommend giving them a light rub down with a finishing pad to help smooth out any rough areas from the laminate. Do be careful around edges with sandpaper as you can, if too rough wear though the veneer, and no one wants that.
With a solid wood door that's been previously finished its best to sand through the grits up to p120, and always with the grain. Properly executed sanding makes all the difference when finishing as this will not only remove old finishes but open the grain so the oil can penetrate and protect the door fully. The results from improperly sanded surfaces? This ranges from patchy finishes to swirl or scratch marks. Of course, both of these results aren't a catastrophe as you can always sand and refinish.

Over application isn't uncommon with Door Oil but is avoidable by using the P.A.R.S.E. Method
Prepare properly – sand the wood to P120
Apply thinly – always working with the grain
Remove excess – using a microfibre cloth
Sand lightly – abrade the surface with a finishing pad once dry
End coat – Apply and leave to dry
Nice and easy
Osmo Door Oil comes in two variations, the Satin 3060 that enhances the grain and offers a soft sheen and the Raw 3033 that helps maintain an untreated look that looks great on Oak. Doors in rooms such as kitchens and bathrooms can be treated with Osmo Wood Protector 4006 for additional protection prior to oiling. This base-coat is only recommended for use on doors being treated with the clear-satin door oil. The base-coat will enhance grain to some degree which goes against what the Raw is designed to achieve.

If you're seeking further technical assistance or advice on your project, why not put us to the test and give us a call or email? We're experts after all, with an unwavering dedication to outstanding customer service. All the products we've had the pleasure of using are linked in the description on Youtube. Like what you've seen? Don't forget to like and subscribe for future content.
Other Post You Will Love!
Interior Door makeovers with Osmo Door Oil 
How to Apply Manns Extra Tough Door Varnish