In this video Jay from Wood Finishes Direct will highlight the key things you should consider before purchasing the Manns Extra Tough Flor Varnish.
Extra Tough Varnish FAQ
What is the advantage of a varnish?
Varnishes are tough, hard wearing and easily cleaned. Wood varnish is generally more durable than a wax or oil but is not as easy to maintain or repair if it becomes worn or damaged.
What is the best way to clean and maintain my floor?
A concentrated cleaner can be mixed with water then applied by slightly dampening a cloth or mop. It is important to let the cleaner and not the water do the work. Using too much water on a varnish, wax or oil will take a little of your finish off each time it is used which in turn means your floor will have a shorter life. Visit our floor cleaners page to see our range of easy to use products.
Can wood oils be applied over a varnished floor?
Unfortunately not. Wood oils work by penetrating in to the surface grain of the timber and hardening in the surface of the wood. Wood that has been varnished will prevent this from happening and will likely result in a sticky mess on top of the varnish. Varnished floors must be sanded back to bare wood before a wood oil can be applied.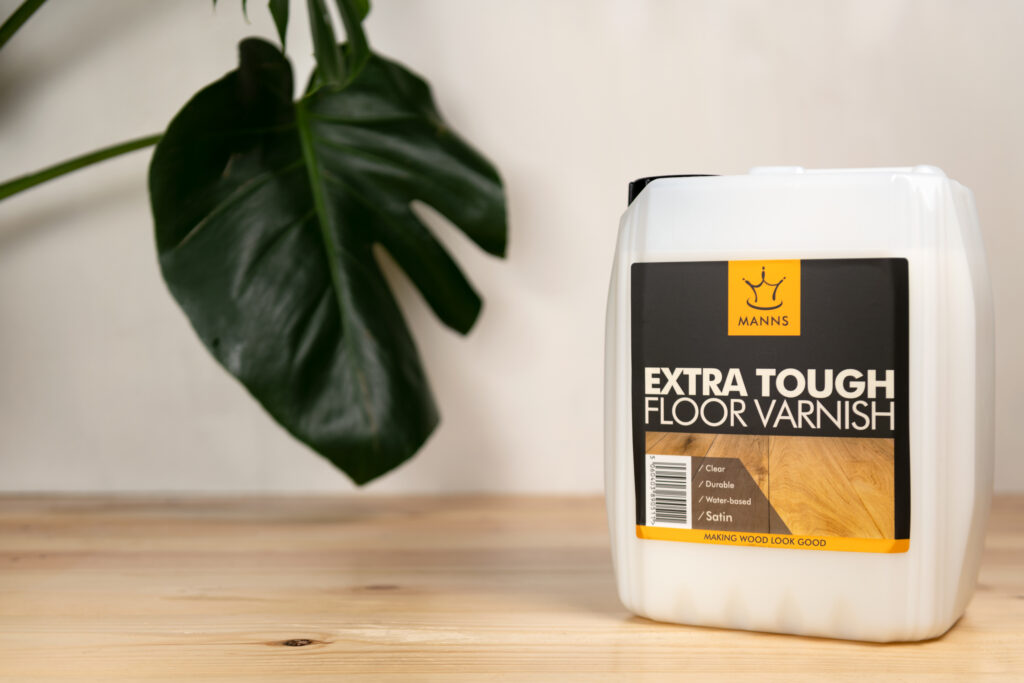 Before you Buy – Manns Extra Tough Floor Varnish.
Hi I'm Jay from Wood Finishes Direct, in this video I'm going to be highlighting the key things you should consider before starting a project with the Manns Extra Tough Floor Varnish. But first of all… what is it?
What is it
Manns Extra Tough Floor Varnish is a non-yellowing, Low-Oduor, Clear polyurethane varnish that creates a durable plastic-like coating and offers excellent protection to… you guessed it, your floors. Suitable for use in domestic and light commercial environments, remember it's not just tough, its extra tough.
Prep the wood
It's always a great idea to start with the best canvas possible, sand your wood through the grits up to P120, always make sure you work with the grain to avoid scratch marks. Ensure the wood is clean, dirt and dust free.
Got gaps between your boards? Not a problem. use one of our easy-to-use gap fillers for a seamless finish
Primer
To prime or not to prime, that is the question… The Manns Extra Tough Primer is the answer. The benefits you will see are improved coverage, adhesion and a better finish all round.
The Look
Manns Extra Tough Floor Varnish may look like a peachy white, but it will dry clear, enhancing the natural tone and patina of the wood giving it what we call the "wet look". The Manns Extra Tough Floor Varnish comes in handy 100ml sample pots for you to do test areas before purchasing a bigger bottle.
The Sheen
Last thing to consider before purchase is sheen! Sheen refers to the amount of light a finish reflects from the surface; contrary to popular belief this has no influence on durability.
Matt – Gives you a flat matt look and feel
Satin – The halfway house between matt and gloss
Gloss – Gives the light a good surface to reflect off
High Gloss – The best surface for light reflection
It's very important to make sure you stir thoroughly before use, to avoid inconsistencies in the chosen sheen.

If you need any further technical advice or information about your project why don't you give us a call or email and put us to the test we are the experts after all . A full list of all the products featured in today's video will be in the description on YouTube don't forget to like and subscribe for all future content and as always always do a test area.
Other Post You Will Love!
Which wood flooring is best for you?
Should you use an oil or varnish to finish your floor