The average household door takes its fair share of wear and tear through the years – from dirty fingerprints to shoe scuffs, pet scratches to the wonderful new art created by the children. A door is one of the first things you see before entering a room, and the last as you leave. If you're selling your house, or readying for a house makeover there's a great little product called Osmo Door Oil that offers an ideal solution to protect your interior doors whilst offering a pleasing natural finish.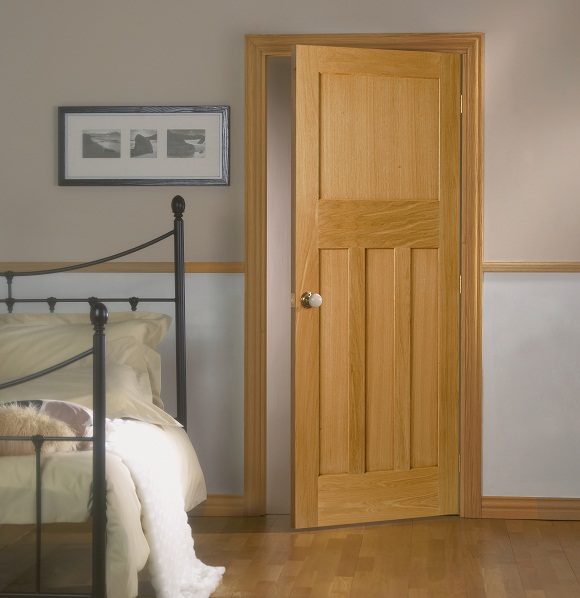 Benefits of Osmo Door Oil
You'll probably find that many old interior doors have been covered by layers of paint, or suffered from the "bright orange glow" from antiquated varnishes used through the 70s, 80s and 90s! The fashion nowadays is to keep a door looking as fresh and as natural as possible (so we're told anyhow!) So before you start slapping on a varnish, consider that Osmo Door Oil – formulated from a blend of natural waxes and oils, offers these key benefits:-
It's a natural oil helping to reduce shrinkage and warping
It's extremely easy to repair
It offers superior coverage
Hard wearing natural "wood like" finish
Osmo Door Oil will not peel, flake off or blister
Varnishes by contrast can look plasticy and can be problematic if they are scratched or chipped – the only full proof way to repair any damage, is to strip the varnish off and start again, a time consuming and messy process.
Let's talk more about Osmo Door Oils!
In addition to keeping internal doors supple and protected from day-to-day scuffs, stains, hand and finger marks, what other benefits do Osmo Door Oils offer? Doors treated with Osmo Door Oil are extremely easy to maintain and if need be, repaired. Minor scuffs, scratches and areas of wear can simply be cleaned and re-oiled for a seamless patch repair that blends in with the surrounding wood.
Does Osmo Door Oil come in different colours?
Osmo Door Oil comes in 2 different variations, clear satin 3060 and Raw 3033. The standard clear satin version will darken the wood and enhance the natural character and grain of the timber as would any clear wood oil or varnish. The 'Raw' version is specifically designed to better retain the natural, untreated look of wooden doors and is better suited to lighter coloured timbers such as oak and pine. Applying Raw 3033 to interior doors made from dark exotic hardwoods may result in a slightly milky finish. This is due to the tiny amount of white pigment in the oil that counteracts the darkening effect of the standard clear door oil.
Maintaining interior doors
Any stains and dirt marks that appear over time can be quickly and easily removed by cleaning the affected surface and applying a thin coat of Osmo Door Oil to the affected area. If marks go deeper and have penetrated into the wood grain, a light sanding of the area may be required before applying the oil for a completely seamless repair.
So there you have it… once you have stripped your door back to bare wood, or if you already have, apply Osmo Door Oil 3060 for the most natural, cost effective and easily maintainable solution for protecting your interior doors.
Need expert help with your doors?
Do you need help with your interior doors? Our wood finishing experts are always on hand to offer free project and product advice. So, if you have a question about a door finishing, restoration or renovation project, contact our team of wood finishing experts to get the help you need to achieve the perfect door finish.
Alternatively, see our door finishes FAQ page that answers many of the more commonly asked door finishing questions. Want to know how to finish a door with a door oil? See our Youtube video that explains how best to oil wooden doors below.
We also have a blog post called Interior Doors – Top Tips for Wooden Door Care and Maintenance, that gives a broader overview of all door finishes.
We love to see before, during and after photos of any interior door project. If you would like to share your door project pictures with us and our followers, send us your photos or share on our Facebook, Twitter, Pinterest or Instagram pages.