Not so long ago, interior decoration was all about chilly, bleak minimalism. It suited the times, born of a pre-recession zeitgeist, where everyone and his dog were investing in property, wealth was king and money seemed to flow like water. Then came the credit crunch and the banking crisis… and everything changed.
Minimalist hotel-style décor took a few post-recession years to disappear altogether, but it has finally died a death. Which means we can start getting creative with our interiors again. Shabby chic and French country styling are hot. People all over the nation are collecting beautiful recycled, vintage, retro, up-cycled and found objects, creating their own fabulous paint effects and coming up with some truly awesome DIY decorative ideas.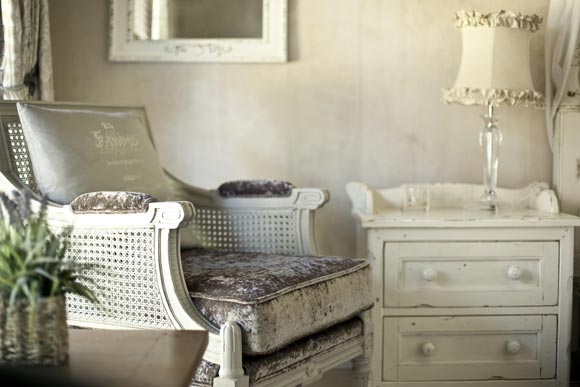 Home is where the heart is. Décor is fun again! And we're selling more craft-oriented wood finishing products than ever, testament to the nation's new, softer, more environmentally responsible, less money-grabbing mood.
Décor these days is less about status, more about personality. So how, exactly, do you shabby chic furniture and other wooden objects and achieve 'the look'?
What is Shabby Chic?
The Shabby Chic style is described by Wikipedia as…
"A form of interior design where furniture and furnishings are either chosen for their appearance of age and signs of wear and tear or where new items are distressed to achieve the appearance of an antique. At the same time, a soft, opulent, yet cottage-style decor, often with an affected feel is emphasised to differentiate it from genuine period decor.

Shabby chic items are often heavily painted through the years, with many layers showing through obviously time-worn areas. The style is imitated in faux painting using glaze or by painting then rubbing and sanding away the top coat to show the wood or base coats, known as "distressing" the finish of the furniture. Furniture pieces that are not genuine antiques are usually selected for their resemblance to older furniture styles, and may be reproduction furniture with a distressed finish. Elaborate furniture appliques depicting flower swags and garlands, cherubs, and other motifs may be added."
The type and extent of the Shabby Chic look is very much down to personal preference. For a subtle aged look stick with a single colour and gently distress the natural contact points such as handles and edges to expose areas of bare wood. For a more dramatic effect, use 2, 3 or more layers of colour so that different levels of wear and tear can be achieved.
How to shabby chic furniture
Before we start talking about how to create shabby chic décor, let's have a quick look at what you can transform and where to get it.
The brown furniture market has been in the doldrums for years, but things are starting to move again, with more of us looking for born-again vintage furniture bargains, many of which are still as cheap as chips.
You can pick up a lovely 1930s Art Deco wardrobe for less than £50, something with much more character than a brand new Ikea alternative. Or you could shabby chic chairs – how about a set of 1970s bistro-style chairs, or a mixed batch of kitchen chairs, each in a different style, easy to find for as little as a tenner each? Then there are shabby chic mirrors, with the frames transformed from gruesome gilded or dark wood nightmares into something cool, contemporary and stylish.
Your best source of all this interior décor treasure? Your local auction house, nearest furniture-focused charity shop or furniture recycling outlet, Freecycle community or Ebay.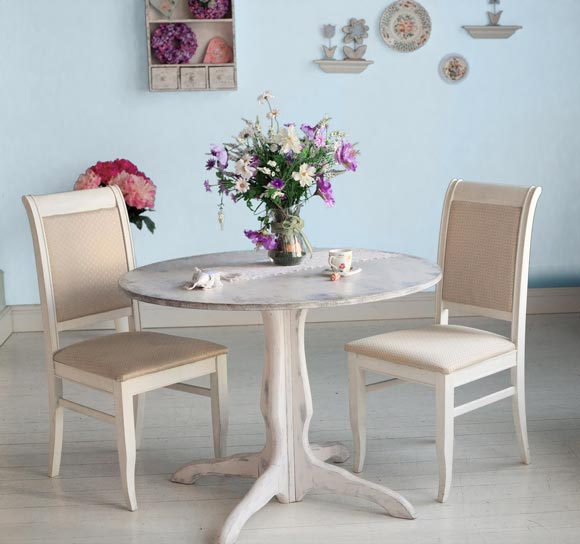 What about colour? Obviously you need to decide on the colours before you start. Most shabby chic stuff focuses on so-called 'heritage' colours like creamy whites, grey-whites, green-whites, duck egg blues and pale greens, but there are no rules. Anything goes! You can either be bold and use two contrasting colours, or go for a subtle effect using toning colours for a softer look. It's entirely up to you. It's worth Googling 'shabby chic furniture' then clicking on Google images for inspiration. Alternatively, base your colour scheme on your soft furnishings or the colour of your walls.
What will I need?
Knowing what you need in terms of paint and materials will vary depending on the size of the project and the desired look that you wish to achieve.
Paints and Materials
Ancillary equipment
Dustsheets – To protect carpets, floors and surroundings
Sugar soap – For cleaning old finishes and surface preparation
Microfiber cloths – For applying soft clear wax if required
Sandpaper sheets – For sanding back the top coats to reveal the colour or the wood beneath
A soft buffing brush – For buffing soft wax
Paint brushes – One for each colour or coat to reduce the chances of cross colour contamination
Clear satin interior varnish – For those wishing to varnish the final finish. Check compatibility with paints used first
Putty or filler knife – For repairs or distressing the furniture surface
Apron or overalls – To protect clothing
Safety goggles – To protect eyes from dust and splashes
Dust mask – Essential when sanding furniture and paints
Protective gloves – To protect hands from dust, dirt and paint
Bucket of warm water – For cleaning brushes and other equipment
Before you start
As with any project, planning is key to a successful outcome. It may sound obvious but decide in advance how you want the finished piece to look. Make sure that the finished fixture or piece of furniture fits in with the overall scheme you want to create, redefining your surroundings and taking you on a stylish journey. Spending money on furniture and materials without a plan in mind might result in wasted time, effort and materials. The internet is awash with pictures of inspirational styles and ideas to get those creative juices flowing.
For example, decide whether you want to use just varnish, one coat of paint, two or more. Know whether you want to accentuate the natural colour of the wood with a light stain or through a single coat of white, or whether you want to use a strong colour as a top coat and distress it to show the white undercoat or all the way back to bare wood.
DIY for cheap shabby chic – 8 simple steps to interior design heaven
You've found a piece of furniture you want to shabby chic. Here's how:
Prepare the wood – Remove the existing wood finish to create a key so your new paintwork will stick properly to the surface. If the wood has been polished with wax, then a wire wool pad plus turps or white spirit should do the trick. If it's varnished, use sandpaper or a good quality paint and varnish remover.
Apply a coat of water-based acrylic primer – This simply gives your furniture a smoother finish, making it easier to work on. Because it's a shabby chic project, you don't need to be neat. Even if you're rubbish at painting, you'll be fine. Have fun!
Apply two layers of paint – Next you need a couple of thin layers of coloured water-based acrylic paint. Let the first layer dry completely before adding the next one. You can also gently sand the first layer with very fine sandpaper, say 180 grit, to provide a better finish.
If you just want plain, painted wood, just seal the paint with acrylic varnish then skip to Step 8 below. Then you're done. But there's more. If you want to go the whole hog and get involved with actually distressing furniture, we'll look at that next.
Distressing your painted wooden furniture – Distressing furniture also involves the first Steps 1 & 2 above. But instead of applying two coats of the same colour, you create a two-colour distressed finish where the second layer is rubbed away to reveal the first for a 'natural' wear and tear look. Again, acrylic water-based paint is perfect for this.
Add your first colour and let it dry completely. Now for the clever bit. You simply dab streaks of clear furniture wax where you want the wood to look distressed. You can use a paintbrush to apply the wax, or cloth, or a small sponge – a kitchen sponge will do – or even your fingers. The wax repels the second layer of paint, letting the base colour show through. You need to paint the second layer of paint over the whole thing, wax included. Let it dry, then wipe the furniture with a soft cotton cloth to take the paint off the waxed areas, leaving a brilliant effect that looks as though it's just come out of a posh interior décor shop.
Not distressed enough? You can attack the pre-painted furniture with wire wool or sandpaper, scrape it with a large nail or even bash it with a hammer to take off the paint as deep as wood level. If you go wrong, just paint over it, or wax and paint it again. The most difficult part of the job is to make the distressed effect random – avoiding creating a pattern of any kind. As natural pattern-seekers, humans find it difficult to 'do' random. But luckily it's more or less impossible to get the shabby chic look wrong.
And finally… the finish – All you need is some good quality clear beeswax polish. This delivers a lovely lustre as well as protecting the surface if not using a varnish.
Creative ideas
You might want to create an entire shabby chic bedroom, with matching or contrasting paint jobs on your bed, wardrobe, chairs, dressing tables or even modern fitted wardrobes. You can even create the effect on wooden doors.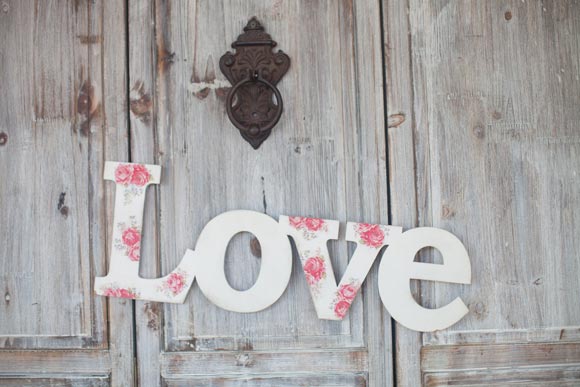 You may prefer to take it easy and mix 'n' match plain wooden furniture with distressed pieces for that popular eclectic look. You can use bold, bright Mediterranean and Mexican colours to make a big, bright impact. Or stick to cool, subtle shades, for example a collection of different blues, creams, lilacs or greens.
For a final splash of colour, you can add applique images. Here's an idea: buy a second hand book about butterflies, ferns, birds or flowers from a charity shop. Cut out a handful of beautiful pictures, for example a host of gorgeous butterflies or a flock of birds. Glue them onto your furniture with PVA glue after you've completed the paint effects but before you wax it. If they stand out too much, paint a watered-down layer of your top coat colour to mute the colours and blend them in with the background. Then wax over the top once everything is 100% dry.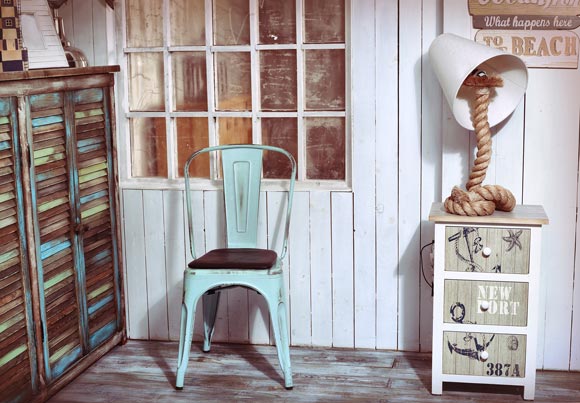 We have a whole range of wood finishing products dedicated to woodturning and crafts to choose from. Why not visit and see what fires your imagination?
Any questions?
If you have any questions about which products to use to bring your shabby chic ideas to life, our dedicated team of experts are on hand to give help and guidance – just give us a call.