Daytime TV is awash with home improvement programs that show quick and easy ways to makeover bedrooms, bathrooms and living rooms. With nothing more than a coat of paint, some fancy drapes, fluffy cushions and the odd canvas print thrown in for good measure, rooms that last saw a paint pot in the 1980's are seemingly transformed to a modern-day home oasis in hours.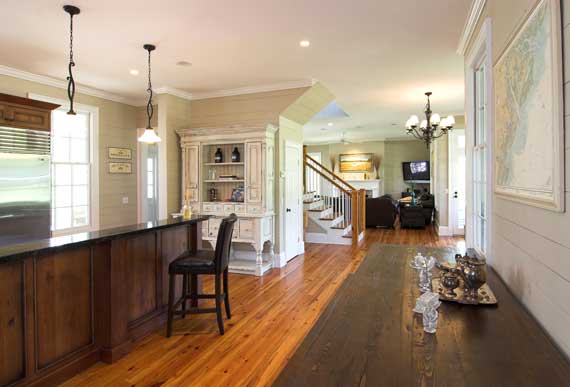 Although these programs are great, they often neglect the more permanent fixtures and features of a room such as doors, floors, real wood furniture, skirting boards and architraves that can ultimately hold back the full potential of any living space.
A common issue with wooden fixtures and fittings is that over time, regardless of if they have been varnished, painted, waxed or oiled, is that they can get marked, scuffed, chipped or just become tired looking. Just as bad are the effects of years of over-painting and varnishing that can cover over details in the wood and hide the true beauty of the wood beneath.
With more people now deciding to renovate than move, recycling old furniture and fixtures to enhance the living environment has never been more popular. With a rising trend towards natural wooden floors, doors and renovated pieces of furniture, the use of wood stains is on the increase.
Wood stain products provide a safe and easy way to transform any tired looking wooden surface. They're as popular with wood craft and DIY enthusiasts as with professional floor finishers, joiners, furniture makers and property restoration experts.
Being relatively inexpensive, using a wood stain is a great way of transforming otherwise uninteresting wooden surfaces into something far more exotic looking. Sanded back floors, doors, skirting boards and architraves can be transformed from bland pine to a deep rich Jacobean Oak or perhaps a more traditional oak colour. Furniture can be stripped and stained to any number of traditional, exotic or outlandish colours by simply mixing a combination of water based wood stains and water based wood dyes such as yellow, blue, orange, red, brown, black and white.
So next time you look at a room in your home and wish longingly that a TV makeover show would pay a visit, get a pen and paper and let your creative juices flow – It really can be done without costing the earth or taking a month of Sundays.
* Wooden surfaces must be stripped back to bare wood when using wood stain products – Wood stains will not work if applied to surfaces that have an existing varnish, waxed or oiled finish. Varnish, wax or oil can be applied on top of the wood stain to finish the project