Wood Finishes Direct are delighted to announce that Disney's #Encanto is now in cinemas and to celebrate, Crown Paints have created a range of Encanto inspired colour palettes, so you can bring the magic of colour to your home.  
#Encanto tells the tale of an extraordinary family who live in a magical house in the mountains of Colombia called an Encanto. The magic of the Encanto has blessed every child in the family with a unique gift – every child except one.
This heart-warming story is a celebration of family, individuality, and the home – which you can celebrate too by transforming your spaces with the  Crown Paints Breatheasy® range. Because after all… it's not just paint, it's personal. 
See Disney's Encanto in cinemas now
In celebration of Disney's 60th animated film release, Crown Paints and Disney have teamed up to produce a range of colourful, low-odour, breatheasy paints, that faithfully reproduce the character and colours of the film. Perfect for any room in the house, they are especially ideal for recreating a Disney experience in children's bedrooms and playrooms.
The Encanto Story
The new Walt Disney Animation tells the tale of an extraordinary family, the Madrigals, who live hidden in the mountains of Colombia, in a magical house, in a vibrant town and in a wondrous place called Encanto.
Now you can bring the magic of the movie to your own home thanks to Crown and their exciting new range of asthma and allergy friendly paint through  Crown Breatheasy Matt Emulsion and  Crown Breatheasy Silk Emulsion paints for walls and ceilings. Simply choose your favourite character and get creative with their magical personality colour palette. 
The characters and colours of Encanto
So, without further ado, let us explore the main characters and colours of Disney's 'Encanto', through Crown Breatheasy Matt Emulsion and Crown Breatheasy Silk Emulsion paints.
Antonio
Antonio is the youngest of the Madrigal family, his gift allows him to communicate with animals.
Crown's nature inspired palette is perfect for recreating Antonio's wondrous rainforest bedroom. Simply paint your mural backdrop and adorn with stenciled leaves, birds, and animals to magically transport any bedroom space to warmer climates.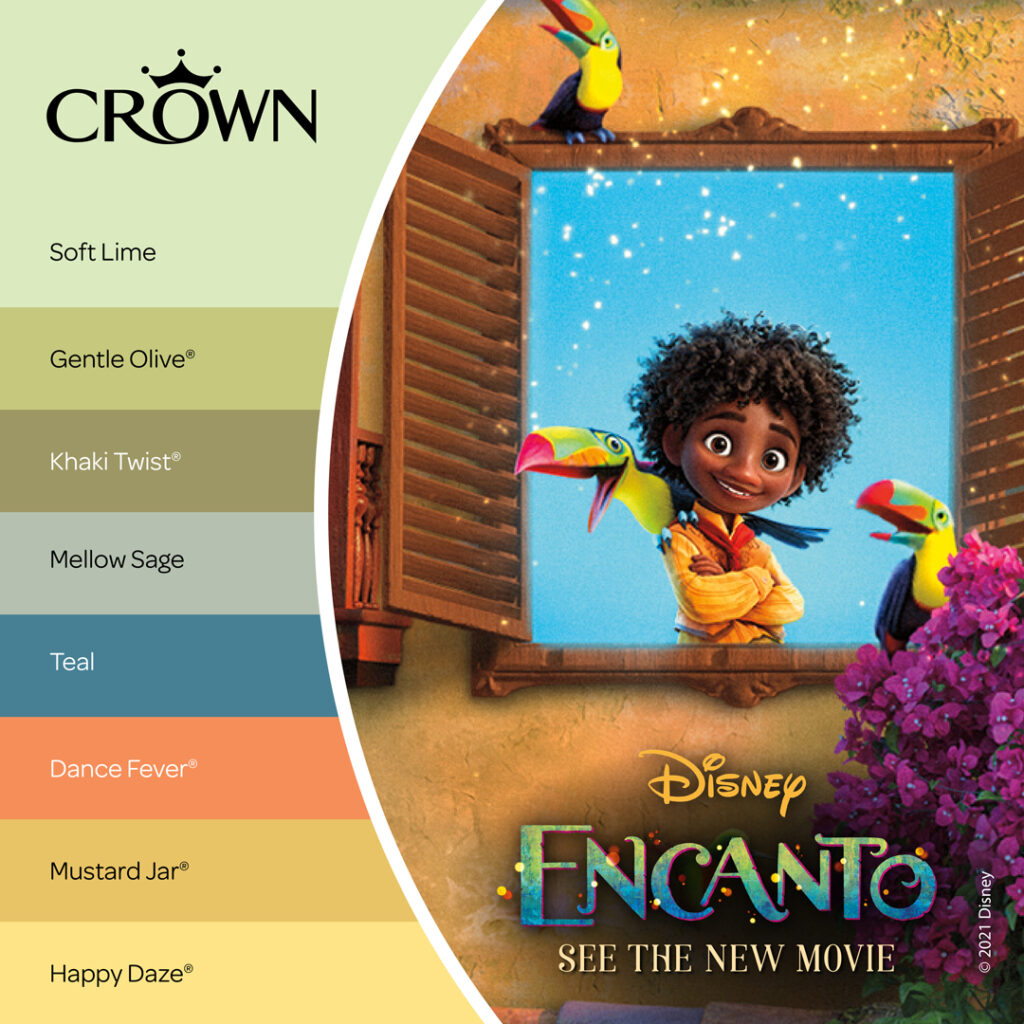 Isabela
Isabela is the golden child of the Madrigal family, whose gift is the power to conjure beautiful flowers and plants.
Recreate Isabela's magic with Crown's delicate pastel shades – for an uplifting yet soothing bedroom space.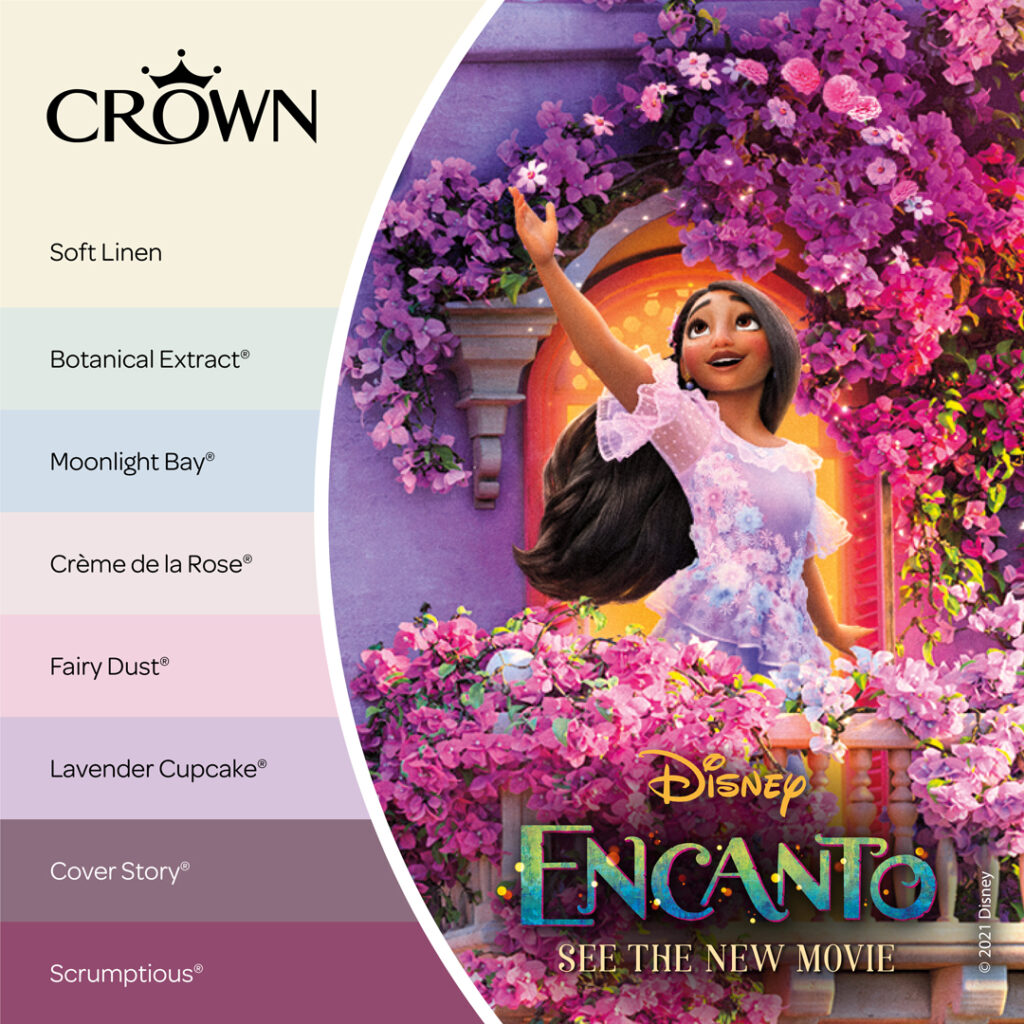 Julieta
Julieta is the mother of Isabela, Luisa, and Mirabel. Her gift allows her to heal people's wounds. Julieta always supports her younger daughter, Mirabel, because she understands how hard it is for the young girl to be the only ordinary member of a magical family.
A loving mother who has the ability to heal with her cooking, recreate Julieta's warm and comforting nature with gentle yellow shades, perfect for everyday dining spaces.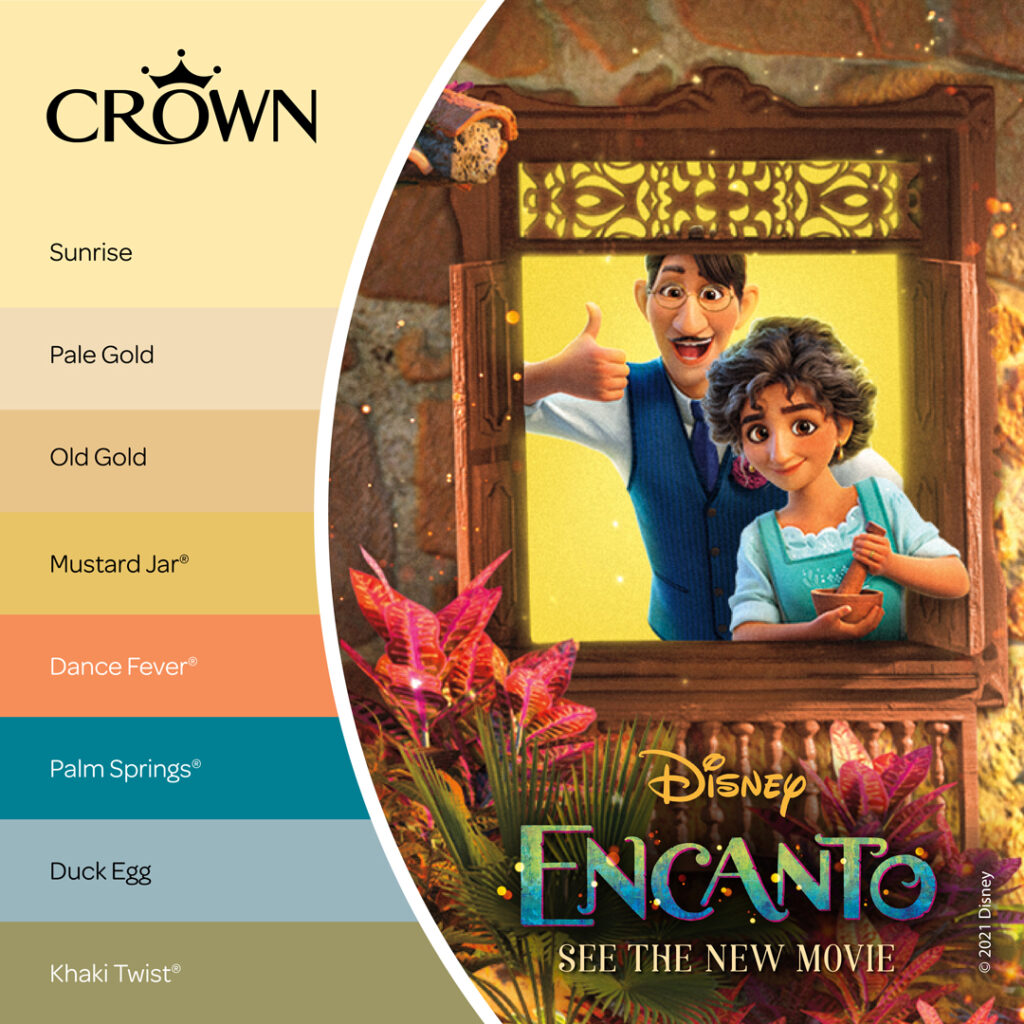 Mirabel
Mirabel is the youngest daughter of the family and the only Madrigal child who did not get a gift.
Create a bright and beautiful bedroom inspired by Mirabel by using their bold and daring shades that bring stencilled flowers and butterflies to life.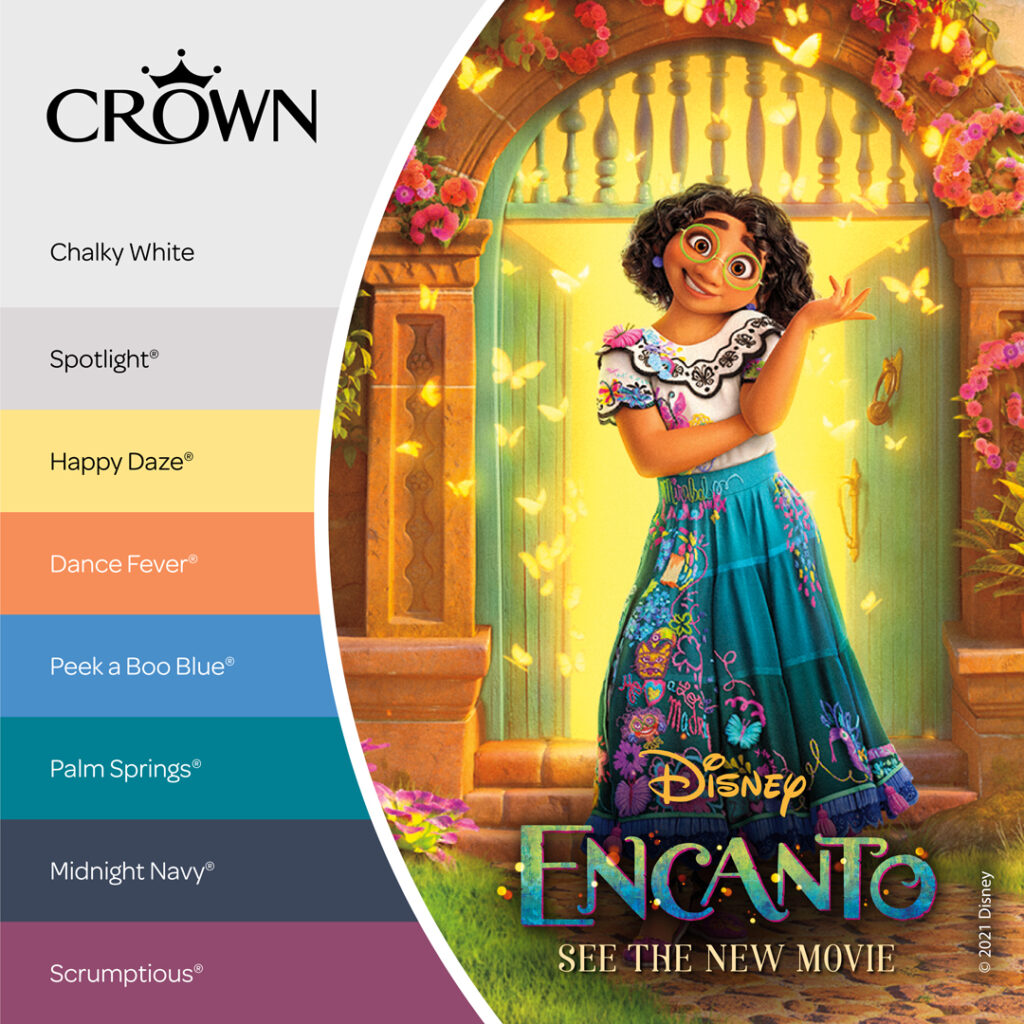 Disney bedroom ideas
When it comes to children's bedroom ideas,  Crown Breatheasy Matt Emulsion and  Crown Breatheasy Silk Emulsion paints for walls and ceilings offer a world of possibilities. Inspired by Disney Encanto, the colours in the range are perfect for themed bedrooms and playrooms, with either soft, calming colours and shades, or with something altogether more vibrant and exciting. It could be as simple as painting the walls or creating your own bed surround with stencils or wall stickers. Here are just a few Disney bedroom ideas to get those creative juices flowing. 
Encanto Antonio themed bedroom colours
These Disney colours represent the natural colour pallet of forests and wildlife. The clever use of homemade stencils or Disney wall stickers can be used to theme and bring alive what would have otherwise been bare bedroom walls.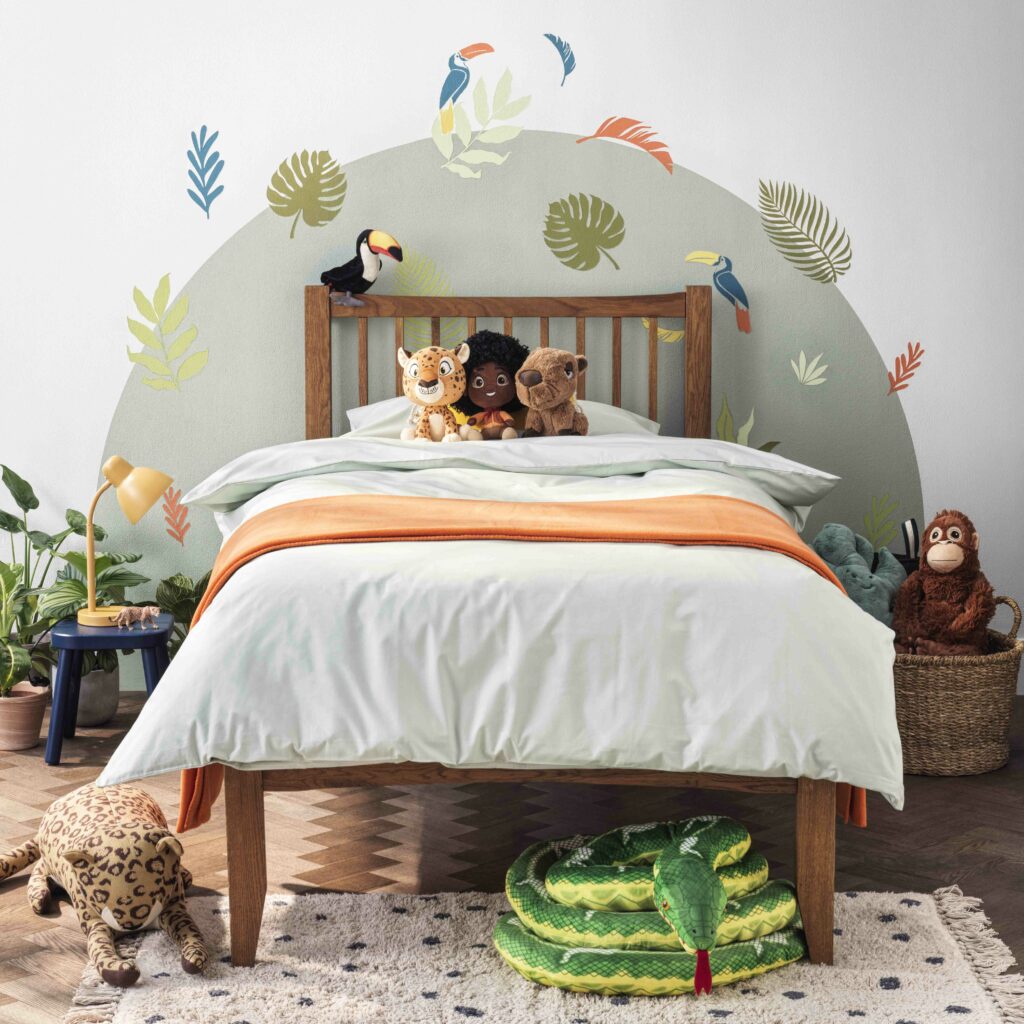 Encanto Isabela themed bedroom colours
The perfect colour scheme for any Disney princess bedroom. From pastel tones to vibrant shades of Pink and Purple, the Isabela colour pallet is sure to transform any ordinary bedroom into a faraway fairy-tale.
Encanto Mirabel themed bedroom colours
The Mirabel colour pallet probably has the most diverse range of colours ranging from a subtly tinted white and grey, through to a range of stronger, more vivid colour shades.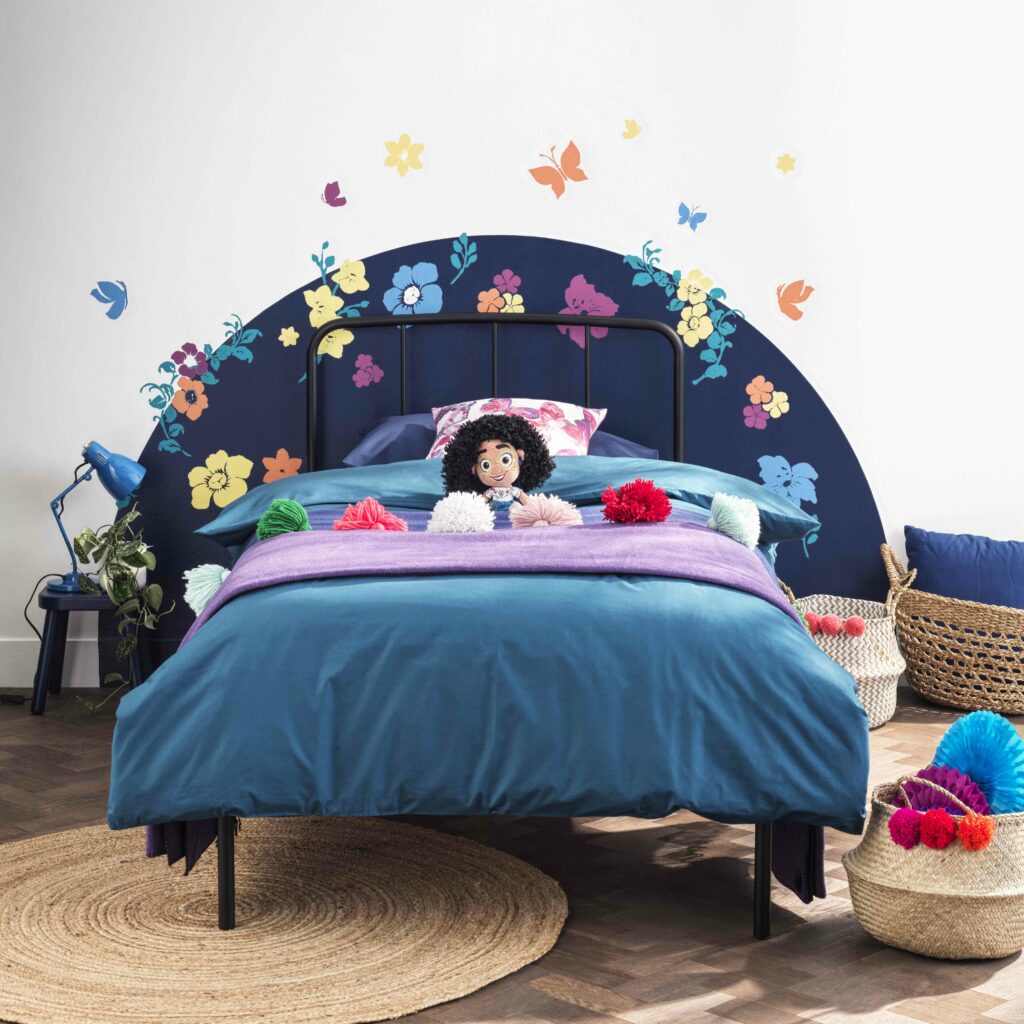 Need help with your Disney colour ideas?
If you have a question about the Crown Breatheasy paint range, or just need practical advice on how best to approach a project, give our team of inhouse experts a call. They are always on hand and willing to offer free expert advice on projects and the products we offer.
We love to see before, during and after photos of any project. If you would like to share your Disney project pictures with us and our followers, you can either send us some photos or share on our Facebook, Twitter, Pinterest or Instagram pages.