In 2014, the word 'Vintage' became the 'it' word for design styles, not just in terms of vintage retro furniture and interior design, but in fashion, hair, make-up and kitchenalia as a way of life. Reminiscing back to a time when we knew our neighbours and what they were up to, a time when we had a sense of community and the only way to talk to each other was…well to actually talk to each other. Vintage Fairs and Shows have grown in popularity, allowing people to dress up and dance to the music of their favourite era, and show off their vintage wares, whether that be their retro style furniture, cars, costumes or music collection.
The Vintage Era
Vintage can cover anything from 1920's right through to the 1980's, but one of my favourite era's was definitely the fifties. A post-war period when austerity came to an end meant that people were able to invest in interior designs for their home, new and unique designed furniture, and keeping up with the Jones' caused trends to grow rapidly. Plus more and more televisions in peoples homes meant that advertising started to have a massive impact on people's purchases. Furniture style became bold in design, but also had to be practical. Houses were being rebuilt smaller so storage space became vital. Open plan living was introduced and the use of alternative materials such as polyurethane, vinyl and wood became commonplace.
When the economic climate changed in 2008, people found themselves tightening their belts and a 'Make Do and Mend' attitude that originated in the 2nd World War resurfaced. Instead of throwing things away, people used the internet for ways to fix or improve the things that they had. Growing your own fruit and veg, learning to sew and re-purposing things that would otherwise have been disposed of. And because of this, furniture that would have been sent to the dump or charity shop is now being snatched up and re-invented into something modern, but still with that retro vintage furniture feel.
Creating Your Own Unique Retro Style Furniture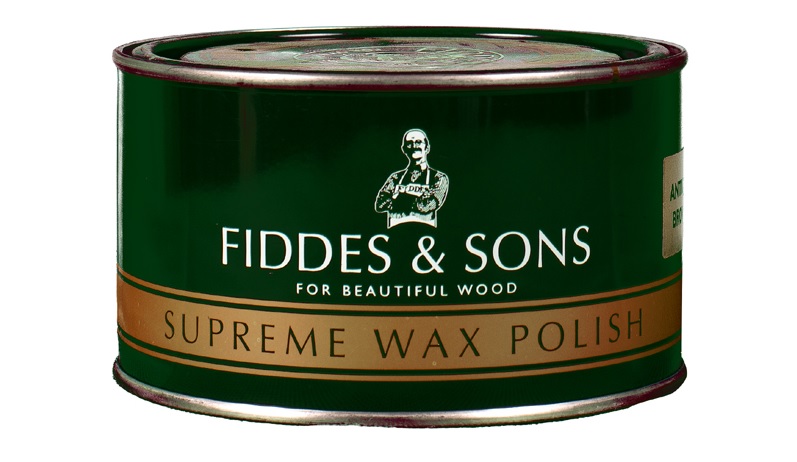 So where to start with your own furniture? If you already have what you want that's great, but if not there is an abundance of funky retro furniture to be found in local charity shops or auctions. When you know what you want to do for the design, the first step is to prepare the surface. If you have a typical veneered piece of furniture then it is not advisable to sand other than with a very fine grit sandpaper or some fine wire wool, if necessary. This will depend both on the wood you are treating and also what you are using to treat with. If you just want to revive and rejuvenate then a Supreme Wax Polish from Fiddes will not only make you furniture look good but also helps to cover dull patches and marks. If you want to add a touch of colour to your furniture, Chalk Paint can work well as they can be used without any preparation or primer and will stick to almost any material. For tips on both these products check out our blogs posts on how to seal chalk paint and using Supreme Wax Polish for furniture to bring out the best of your restored retro vintage furniture.
Retro Furniture Shops – Buy instead of DIY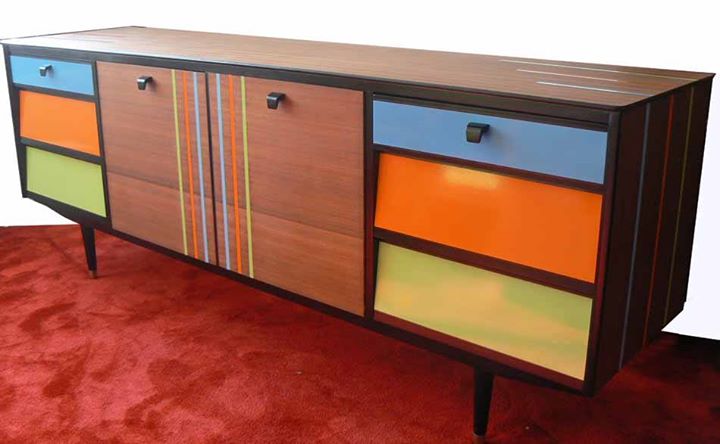 And if you are not into 'Doing It Yourself' or you just don't have the time then there is probably a business local to you that specialises in Vintage Retro Furniture. Like Anecdotes Design, one of the thriving retro furniture shops local to us, based here in Folkestone, that have taken the vintage style and made it contemporary and stylish. Resident Artist Steven Harkins, who also designs handbags, has a wonderful way of using bright and bold colours to create beautiful, modern pieces of furniture. Like this sideboard from a recent collection.
Need Help?
If you decide to create a unique piece of vintage retro furniture for yourself, we have everything you need to get the project off to a flying start. Unsure about which products you should use? Our team of experts are always available to help, just give us a call.