There's nothing quite like a well-maintained, smooth, beautiful-looking garden decking for making your entire outdoor space look extra special. It forms an attractive, smart, natural backdrop for your planting, providing a practical space to relax, cook and party. And we think Manns Premier UV Decking Oil is a splendid product – in our experience it comes very highly recommended.
This week we're featuring Manns Premier UV Decking Oil in a special product spotlight. Here's everything you could possibly need to know about it…and probably a bit more!
First…about Manns themselves
Manns make a huge range of high quality wood finishes for both the commercial and trade markets. Their products range from wood oils to water-based wood stains, water-based varnishes to waxes.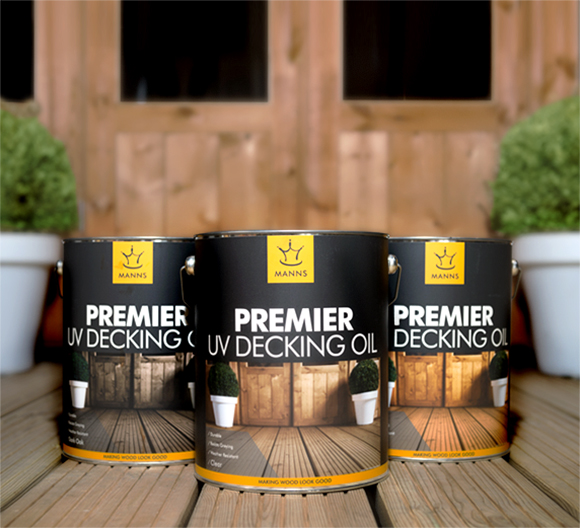 Here's a run-down of the questions we're most often asked about the product, all in one place for your convenience.
Q) What is it?
A) This is a high quality decking oil that protects and nourishes decking just as well as any alternative from the big brand names.
Q) What does it do?
A) This excellent specialist wood oil helps to nourish decking and helps prevent the boards themselves from warping and splitting. The product also helps prevent algae and mould, both of which can make decking dangerously slippery as well as ugly. And the UV filters it contains protect the natural colour of the timber, delaying the greying effect caused by sun and rain damage.
Q) What kinds of wood can I use it on?
A) Manns Premier UV Decking Oil offers excellent weather protection, repels water beautifully and reduces the likelihood of cracking, splitting and warping. It's perfect for both softwood and many hardwood decks.
Q) Does it change the colour of the wood?
A) No, the clear version simply enhances the wood's natural grain and colour and gives the treated deck an almost damp-like appearance. But you can buy the product in three versions: clear, dark oak and light oak, so if you do fancy a colour change, Manns Premier UV Decking Oil is perfect.
Q) How Does It Work?
A) The special blend of high quality waxes, oils, solvents, and mould killers and algae inhibitors penetrate the surface of the timber to protect it against the ravages of the elements.
Q) What about UV protection?
A) Special UV filters in the oil delay the onset of the greying effect you always get eventually with exterior wood. The clear version includes UV filters but as a general rule, the darker the colour of the oil, the more UV protection it provides.
Q) What about preparing your garden decking for treatment?
A) We've already gone into the fine detail behind getting your deck ready for oiling. Here's a link to our post about getting started before you add an oil, stain or treatment. And here's our post about how to clean decking.
Q) How do I apply the product?
A) Manns 147 Natural Decking Brush is your best bet, as it's made for the job. It is a high quality 220mm wide decking brush with 100% natural bristles, designed to be used with an extension pole for ease of use and application.
Q) Do I need to do a test area first?
A) Yes, it makes sense because any original or previous decking oil used on the wood can affect the final colour you get from adding the product, and the difference is most obvious when the oil is fully dry. Even the colour of the raw timber will have some sort of effect on the final colour. Manns Premier UV Decking Oil can only be used on bare wood or decking that has been previously preserved or oiled. It will not work on decks that have been painted or stained with a varnish-like product that seals the surface of the wood with a hard surface coating.
Q) Does Manns Premier UV Decking Oil have any other uses?
A) Just because it's called decking oil, it doesn't mean this excellent product can't be used for anything else. It delivers top results and long lasting protection to any exterior wooden fixture or fitting including wooden handrails, sheds, fences, even wood carvings and wooden artwork.
Q) How does the price stack up compared to household name brands like Ronseal, Cuprinol and Barrettine?
A) Its usually cheaper, even on our website where more or less everything costs less than it does on the high street. And in our experience it's just as good. The high street price of Ronseal Decking Oil, for instance, is £39.99 while right now the same amount of Manns Premier UV Decking Oil comes in at considerably cheaper at, £29.26.
Q) Do you provide full instructions for using Manns Premier UV Decking Oil?
A) Yes. There are clear instructions on the container itself and we also provide detailed guidance on the product page. If you get lost in space you can always give us a call and talk to an expert.
Q) How much of the product do I need for my garden deck?
A) Whatever you're using Manns Premier UV Decking Oil for, you can use our clever little coverage calculator on the product page itself to pin down how much of it you need to buy.
Any more questions?
Feel free to contact us about any wood finish related subject you like. Our experienced staff know the products we sell inside out and are happy to help and advise you.