The Garden Shed. Traditionally a refuge for men and their tools but times are changing! Women are taking over garden sheds across the land and transforming them into their own private spaces, affectionately known as the 'She Shed'.
That little building at the end of your garden can serve so many purposes these days. Not just your ordinary storage shed for garden furniture and tools, a place where everything gets chucked in at the end of summer, but a place of haven for men and women who want some quiet time. Time away from the hustle and bustle of everyday jobs and family life. So, whether looking for a craft shed to let those creative juices flow or perhaps a space to set up a permanent model railway, there are literally thousands of possibilities.
Turning the Garden Shed in to an Extension of the Home
Using your Shed or Summerhouse as an extension of your home has become increasingly popular. If you don't have a spare room to turn in to your work studio or games room, then a large shed in the back garden with all the mod cons could be the answer. Many people are also turning to Log Cabins as a back garden alternative because they give a more stylish and cosy feel.
In this Blog we focus on the growing trend of women who are transforming unused garden sheds into craft sheds and more with bright colours, wallpaper and other home comforts that you would normally find in the house.
Little Tea Wagon
Jane from LittleTeaWagon has done just that, turning her 6 x 8 garden shed into a beautiful space, and stamped with her own unique style, her shed has been filmed for George Clarks Amazing Spaces and in a number of magazines including Mollie Makes and Handmade Living. The story of the Little Tea Wagon and Jane's other creative projects make inspirational reading.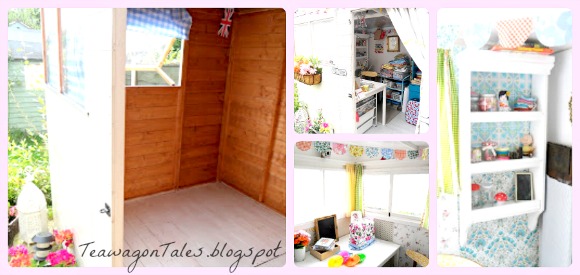 Where Do You Start?
Its not as simple as just putting up your shed and then filling it with all your paraphernalia. With a bit of forward planning and a budget in mind you can achieve something quite beautiful. From Shabby Chic in design to retro and funky, pastels or bright and bold colours, the design choices are endless.
It's a good idea to insulate and board inside the shed in order to keep it warm, comfortable and cosy, but also taking into consideration that you will need to allow for some ventilation to avoid damp. So if you don't have the know-how for doing this then budget for a workman to come in and complete it for you. For a crafting space, light is vital, so large windows are a must but if you don't have that option then good lighting is the alternative and if you need an electricity supply (which you probably will) then getting a qualified electrician in is a must, as all electrical work to an out-building has to be certificated by law.
When all the necessities are done then you can decorate; a lick of paint or wallpaper, pictures on the wall and of course the all important craft table and storage for all those craft bits and bobs. This can be as basic or extravagant as you like, depending on your budget and the type of Craft you are doing. The craft table should be smooth so to avoid any snagging or damage to work in progress from rough edges, old nails or screws. A length of kitchen worktop could be the perfect solution. There are thousands of craft storage ideas that can be found online and by browsing sites like Pinterest. How about old wooden apple or wine boxes, lightly sanded, painted or stained and sealed, either stacked under the bench or screwed on to the interior walls of the shed? Take a look at  Hobbycraft for more craft storage ideas.
Getting it Right on the Outside Too
As much as you need to get the inside right, you also need to make sure the exterior is well protected from the elements. If its a new shed that you have put up for this specific purpose, then you have the advantage of a blank canvas. The first thing to do is check if your shed already has a protective treatment on it, if not then Barrettine Premier Preservative will give a protective coat that will defend against rot, mould, mildew and wood boring insects, all of the things that could turn your shed of dreams into a shed of horrors!!
Depending on the shed that you have bought you may need to seal around windows or fill any gaps to stop any drafts and then you are ready to complete with a top coat of colour or natural finish depending on what look you are going for. Using a good quality, water-resistant product and regular maintenance will keep your shed looking tip top!!
If its an existing garden shed that you are going to convert then we have a great blog article written last year on How to Make Your Garden Shed Shipshape and what products we would recommend to use. If you have any questions you can contact one of our expert advisers here.