If you're the proud owner of an attractive looking wood garden fence it can be a constant source of annoyance and stress, especially if you live somewhere that experiences the full force of the wind. If you live in a location like this and your fence lasts five years or more without any partial collapse, count yourself lucky.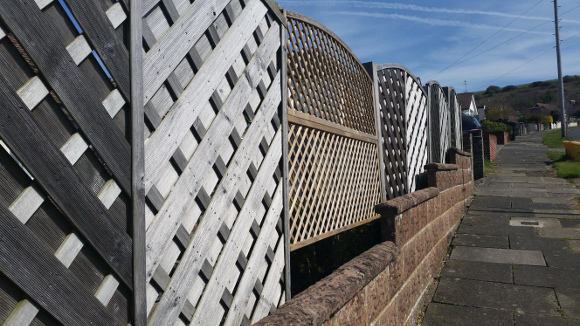 Here's our common sense guide to wooden garden fencing maintenance and how to keep it in the best possible condition for as long as you can, based on our own experiences.
Wooden garden fence maintenance nightmares
My husband and I moved into our current home in late summer 2004, when the house was just two years old. It's around 500 feet above sea level looking due West towards the prevailing weather and the sea, very salty and windy. As you can imagine the views are spectacular but it can get very wild up here, especially in winter.
Less than three short years later the garden fence was in bits following a particularly windy week, a period during which we lay awake at night listening to the roaring gales, wondering which section of our fence would blow down next. No fun at all.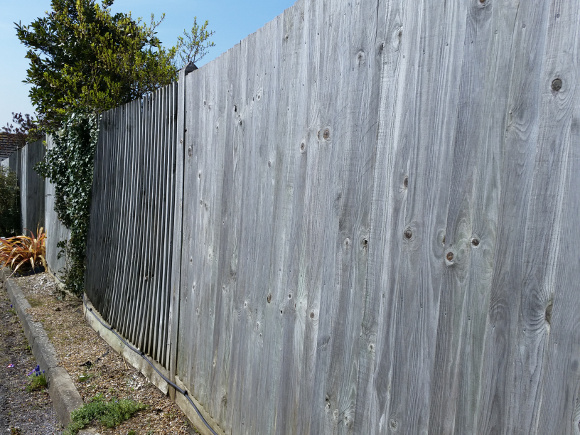 If you've ever watched your fences sail away in the wind…
In our experience the biggest issue with a regulation, bog standard wooden garden fence is that each panel acts like an enormous sail, catching the wind and putting the entire structure under massive amounts of stress, the fence posts in particular. When we staggered downstairs the morning after, all those years ago, we found four fence posts cracked at ground level, all broken in two, presumably weakened by damp coming from the soil. The panels themselves, however, were in pretty good nick.
We had been adding an annual coat of wood preserver to the posts and panels, doing our best to maintain a solid, strong structure. This had paid off on the timber above ground but it was the wood in the ground which was the problem. The first time around we replaced the posts with good quality, properly-preserved wooden fence posts, again set carefully in blocks of Postcrete. We even sat the bottom of the posts in tough plastic bags before setting them into the ground in an effort to prevent the wood from rotting so quickly at ground level.
Three years later they all blew down again, for the second time, and once more the majority of the damage was to the posts, with the panels remaining reasonably solid. We did the same thing, replacing the posts and re-fixing the panels, but during winter 2013 it blew down a third time…and this time was the final straw. The posts were the main culprits again and the panels, now more than ten years old, were now starting to show their age.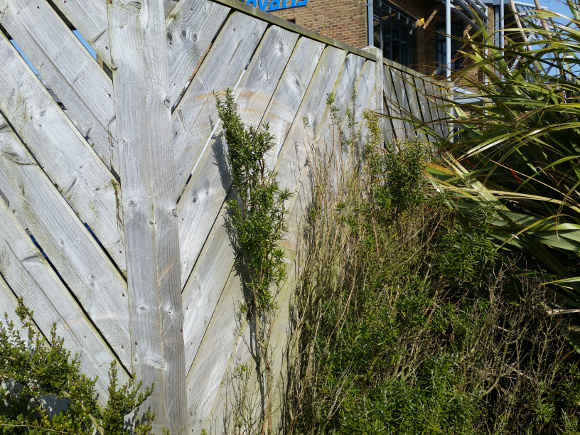 This time we gave up in disgust and replaced the majority of the broken wood fencing with laurel bushes, at a cost of £190 compared to not much less than £1000 if we'd replaced the fence using the same old stuff. The plants sway and bend in the wind but they won't break and are easy to trim into shape. And they're wildlife friendly, a great hiding place for birds and insects.
'Hit and miss' garden fencing does the trick
For privacy's sake we still needed a 12 foot expanse of fence at the house end of the back garden, but this time we chose special wind-resistant fencing that is, apparently, very popular in windy places and lasts longer than the usual cheap stuff.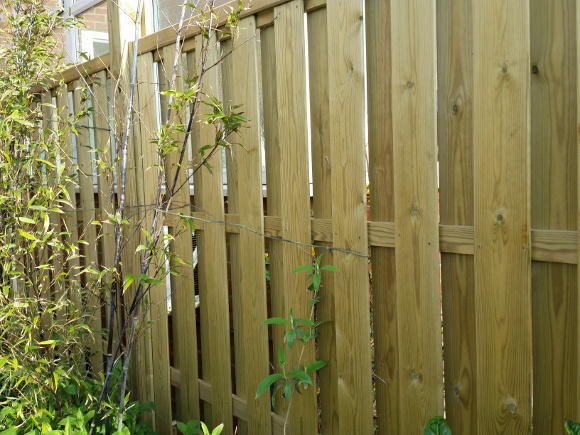 It's called 'hit and miss' fencing, AKA ventilation panels, and I must admit it makes our original garden fencing seem pretty pathetic. The frame is both morticed and tenoned for extra strength and the design lets a percentage of the wind pass harmlessly through the panel instead of making it act like a tremendous sail and putting pressure on the posts. There's a double layer of slats placed cleverly in relation to one another so there's plenty of privacy, but the wind can still slip through – which means there's a lot less wind resistance.
Hit and miss wood fence panel boards can run either vertically or horizontally, and you can even get a chevron design. They all do the same job, it's just a matter of taste. The fence panels have a profiled timber frame, not just nailed slats. All the fixings are stainless steel. The wood is planed all round and you can even buy matching garden gates. I don't think I've ever seen anything quite so solid. It's remarkable stuff.
Compared to many of the wooden fences we see around our way, some of which we've included in this post, it looks like this one is designed to last.
An expensive but reliable solution
Although the two panels and three posts we bought came in at well over £300, they feel reassuringly rugged and haven't budged an inch so far, despite a series of seriously violent winter gales. The posts are much more chunky and strong than ordinary posts, too.
An expensive solution, perhaps, but at least it means we don't have to lie awake fretting every time there's a breeze, wondering which bit of our garden fencing will collapse next. It's worth the money for the peace of mind alone. Thanks to Jacksons Fencing, although you can buy hit and miss from most good fencing suppliers.
So…once you've fitted the best garden fencing solution for your home, in your location, how do you keep it in the best possible condition for the longest time?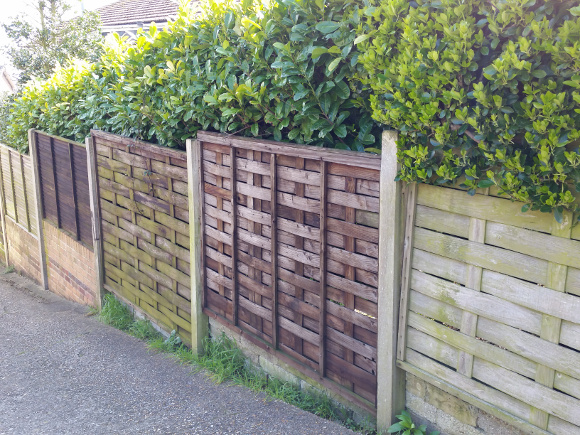 How to maintain a wooden fence
Maintenance is the buzzword here. As a general rule, the better you look after your fence, the longer it will last.
Wood fence panel maintenance often means repairing any damage to the panels themselves. You can glue split and broken pieces as long as the wood is 100% dry, applying waterproof glue and clamping or taping the broken pieces together while the glue dries. If any of them are completely knackered, replace them. It's fairly straightforward to replace individual panels without having to take the whole fence down.
To remove the surface layer of old, grey wood cells and expose a fresh layer of wood, use a power washer. You can easily hire one. Wooden fence panels should always be protected from the elements by using a fence paint or a combination of wood preservers and wood oils. Decking oil makes for an excellent fence treatment as it helps to keep the timber water-resistant, supple, and often contains UV filters which help to protect the panels from the bleaching affect of the sun. Wood preservers and decking oils come in clear or a wide range of colours so getting the desired look should be no problem. A good quality exterior wood oil stain will preserve this new layer of fresh wood and also help prolong the life of your fence.
Fence stain delivers a hint of colour while keeping a natural wood look. In rainy areas you will probably need to seal the fence more often than average. There isn't a specific timescale. It depends on how your fence is looking. When water no longer beads on the surface but soaks into the wood, you need to re-seal.
Most semi-transparent oil stains last 2-5 years, but it's better to be pessimistic and expect to do it again after two or three, since fences tend to get such a battering. Before re-coating, wash the fence with a garden hose and use a tough bristle brush to remove stubborn dirt, any traces of green or black should be treated with a mould and mildew cleaner to clean off the biological matter and kill off the cause so it doesn't come back after just a couple of months. The length of time sealing products last is also dependent on the weather conditions where you are. If it's particularly wet, windy and sunny where you live, you might need to reseal more frequently than average.
Make sure the exterior wood stain you use includes ultraviolet inhibitors, which slow down the bleaching triggered by sunlight. It also helps if it contains a mildew killer, which will slow down the fungal growth that also plays a part in weakening wood.
Use a paint roller and apply a good soaking coat to the wood and leave the fence to absorb the stain fully. Then stain three foot sections methodically, progressing along the fence. If the sealer sinks right in and leaves the panels looking dry, add more coats. Take care to work the sealer into all the cracks and corners, where moisture can collect.
Having said all that, as I mentioned, in our experience the main issue is the posts, which tend to rot first. So what's the best way to maximise their lifespan?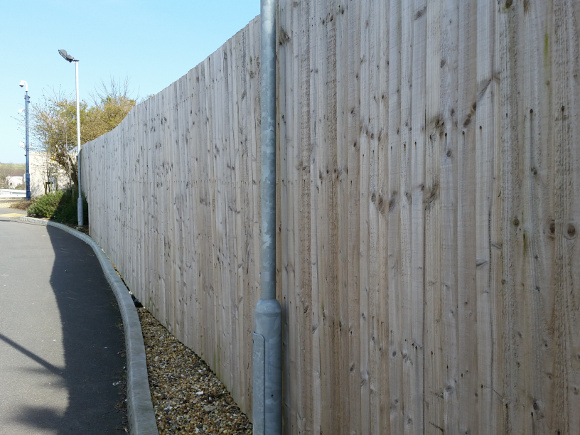 7 steps to keep wooden fence posts from rotting
How can you stop fence posts rotting, or at least keep them in good condition for the longest possible time? Before they go in, it's particularly important to coat the posts with a good quality  wood preservative, paying particular attention to the end of the post where the timber meets the earth or goes into the concrete. Fitting the garden fence posts properly in the first place makes a big difference. Posts often fail because of poor drainage and low quality wood. Here are 6 ways to maximise their lifetime:
Never use cheap, light sapwood posts. Choose darker, stronger heartwood posts, which are much denser and last a lot longer.
Soak the ends of wooden fence posts in a wood preservative for 24 hours before installation. Use a bucket or other deep container, remember to coat the rest of the post with 2 coats while the ends are soaking. Let it dry fully.
Once the wood preservative has fully dried, usually 24 to 48 hours, the same process can be done with an exterior wood oil or decking oil for additional protection.
Put six inches of gravel at the bottom of your post hole, for drainage. Your post should protrude a few inches into the gravel.
Pour the concrete or add Postcrete so it's above soil level. Smooth the surface, ideally making it slope away from the post towards the ground so any water runs off.
Use a top quality exterior acrylic latex caulk, or special silicone designed to stick to concrete, at the base of the post to seal the gap between the concrete and post. If there isn't a gap yet there soon will be, caused by repeated thawing and freezing, wetting and drying.
Re-coat the fence posts to re-seal and protect whenever you re-treat the fence panels.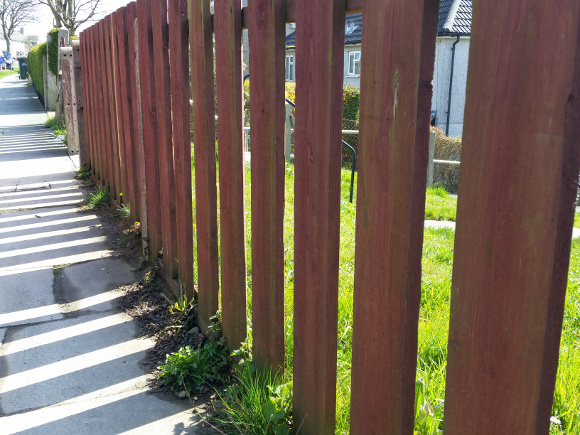 Last but not least, here's a handy fence maintenance video…
Have you overcome serious garden fencing nightmares?
If so we'd love to hear about it. What's your secret? Leave a comment below.